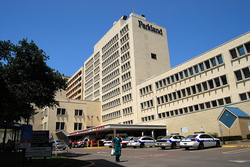 Laguna Niguel, CA (Vocus) July 1, 2009
Synergy Restaurant Consultants Retained for Operations Assessment by Parkland Memorial Hospital in Dallas, Texas.
Realizing the importance of high staff morale, and high quality 'fuel' for all guests, the Executive Staff decided to try a different, more innovative approach to what is really a Hospital Food Court. Because the majority of Operations Assessment projects Synergy completes involve the commercial restaurant segment, the Parkland team decided that a totally different, 'outside-the-box' perspective was needed. Having analyzed more than sixty (60) restaurant companies via their Operations Assessment protocol, Synergy was the perfect choice to complete this recent assessment.
"Synergy representatives spent five days with us performing their Operations Assessment, observing all aspects of our business, following the flow of purchasing, receiving, production and service to our guests through the Breakfast, Lunch and Evening meal periods", says Celia Krazit, Operations Director for the food service venues. "They left no stone unturned, and prepared a detailed report with untold numbers of valuable recommendations that we feel will improve guest satisfaction, guest counts and revenues while making us much more productive and efficient, resulting in reduced operating costs."
In addition to the Operations Assessment, Synergy provided Celia and her team with their objective judgments regarding food and beverage quality, price-value perceptions, plating/presentation recommendations, alternative menu selections, new product opportunities and product display suggestions, all designed to enhance the overall guest experience. Finally, they prepared a rough draft plan for a potential café renovation, with suggestions for new stations that will move Parkland into the next generation of food innovation designed to maintain a high degree of staff 'dine-in' retention and satisfaction.
Synergy provides a portfolio of turnkey restaurant solutions designed to help operators develop sustainable brands and scalable concepts for growth. Our solid hands-on experience in hundreds of restaurants across the United States, Canada, South America and Saudi Arabia has made us a trusted authority on innovation and restaurant operating efficiencies. http://www.synergyconsultants.com
###