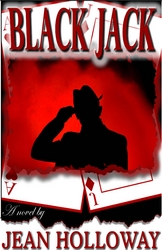 Kennesaw, GA (PRWEB) July 6, 2009
The game is on as author Jean Holloway follows her acclaimed debut novel Ace of Hearts with the much-anticipated sequel Black Jack, published by PHE Ink. Detective Shevaughn Robinson moves closer to solving the murder of a lonely widow, unknowingly rekindling old grudges and awakening a sinister spirit.
Jean Holloway dares to venture into a male dominated genre, Thrillers. Ace of Hearts ($14.00, Trade Paperback, ISBN: 978-0-9774126-6-2) was dubbed the literary love child of James Patterson and Zane--mixing a psychological crime thriller with a touch of erotica. In Black Jack ($14.00, Trade Paperback, ISBN: 978-0-9824475-0-5) the rules have changed and we are betting on Detective Shevaughn Robinson, but the stakes may be too high.
Black Jack picks up four years into Shevaughn Robinson's career as the lead homicide detective for the Portsborough Police Department. She has gone from the cop everyone, including herself, doubted to the "golden child" of the police department with a record of sensational arrests and closed cases.
But when Helene Elliott is found dead from an apparent suicide, her family insists it was murder and pressures the Portsborough Police Department to take on the investigation. Detective Robinson is assigned to the case at a time when she is struggling to strike a balance between her personal and professional life following the death of Tony O'Brien, the love of her life. Elliott's case awakens a complicated relationship with Terri Becker who harbors resentment towards Shevaughn for the death of Eric Becker, the serial killer dubbed Ace of Hearts.
Was the Elliott death a suicide or the work of a cold-blooded predator? Will life throw Shevaughn another unexpected blow? Buckle up and follow Shevaughn as she moves closer to solving the Elliott murder, unknowingly rekindling old grudges and awakening a sinister spirit. Get ready, it's going to be a bumpy ride.
No casino required…
To learn more about Jean Holloway, visit http://www.deckofcardz.com. For additional information or to conduct an interview with Jean Holloway contact Dana Pittman at 832-201-7278 or http://www.niapromotions.com.
About Jean Holloway
Jean Holloway's debut novel Ace of Hearts started 27 years ago in answer to a bet. She now writes and enjoys encouraging literacy through the Quadruple A (African American Authors of Atlanta) Literary Event.
Jean currently resides in Kennesaw, GA with her husband.
Contact:
Dana Pittman, Publicist
Nia Promotions
832-201-7278
http://www.niapromotions.com
###