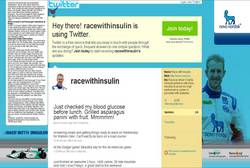 Charlie is an inspiration to anyone with diabetes
Princeton, NJ (PRWEB) July 1, 2009
Novo Nordisk, a global healthcare company, announced the official launch of its "Race with Insulin" Twitter page. The effort is the latest development in the company's 2009 partnership with Firestone Indy Lights™ race car driver Charlie Kimball, who demonstrates that with proper management, diabetes does not have to be a roadblock.
As he travels to events across the country, the first American open-wheeled racing driver with diabetes will provide updates called "tweets" directly from his computer or mobile phone about his race progress and diabetes management, representing a different direction in sharing real patient experiences. Fans can read live tweets and subscribe to receive them by visiting http://www.twitter.com/racewithinsulin.
"'Race with Insulin' provides me the opportunity to regularly reach out to my fans with real-time updates about life as a race car driver with diabetes," said Kimball. "When I am not traveling at speeds of 160 miles per hour, I hope to reach as many people living with diabetes as possible with my own story and inspire them to take an active role in managing their health."
Kimball also has a personal blog, YouTube Channel, fan club on Facebook, racing Website and second Twitter account, where he also discusses his life as a racecar driver and type 1 diabetes. These sites are not affiliated with Novo Nordisk, while "Race with Insulin" is a sponsored branded Twitter page, where he can also tweet about the insulin he uses.
Kimball, who began racing go-karts at age 9, chose to bypass admission to Stanford University to follow his dream to become a racecar driver. When he was diagnosed with diabetes in 2007 he was forced to abandon his racing program mid-season. Remarkably in 2008, Kimball returned to the cockpit and claimed a podium finish in his first race back in the car. Recently he recorded his fourth top 10 finish in Iowa, continuing to prove that his high performance life is possible with diabetes.
Kimball was first introduced to Novo Nordisk when his physician prescribed Novo Nordisk insulins Levemir® (insulin detemir rDNA origin] injection) and NovoLog® (insulin aspart [rDNA origin] injection) when he was diagnosed.
Last year, he approached Novo Nordisk about becoming a sponsor and the company has had its APIS bull, Levemir® and NovoLog® logos on his fire suit, and helmet since April 2009 and on the car since May 2009. Since the partnership began, Kimball has done a series of speaking engagements across the country talking about pursuing his passion and diabetes management.
"Charlie is an inspiration to anyone with diabetes," said Craig DeLarge, associate director of e-Marketing at Novo Nordisk. "We hope that by providing Charlie an interactive platform to share his message, we can motivate patients and healthcare providers to learn more about ways to dialogue about health care."
Novo Nordisk and Charlie Kimball are committed to ensuring compliance with all laws and regulations, including the PhRMA organization guidance on direct to consumer advertising. Important safety information about Levemir® and NovoLog® is located on the left side of the "Race with Insulin" home page. Whenever Kimball discusses either Levemir® or NovoLog®, he will include the prescribing information in his tweet to appropriately disclose risk information in accordance with U.S. Food & Drug Administration regulations.
Next week, Kimball is tweeting from the Children with Diabetes "Friends for Life" annual meeting in Orlando, FL where he will unveil the NovoLog® Pediatric Care Kit. Throughout the season, he will tweet from his upcoming races, including:

Watkins Glen Raceway (Watkins Glen, NY): July 4
Streets of Toronto (Toronto, ON): July 11
Edmonton City Centre Airport (Edmonton, AB): July 26
Kentucky Speedway (Sparta, KY): August 1.
Mid-Ohio Sports Car Course (Lexington, OH): August 9
Sonoma Grand Prix at Infineon Raceway (Sonoma, CA): August 23
Chicagoland Speedway (Joliet, IL): August 29
Homestead-Miami Speedway (Homestead, FL): October 9
The prescribing information for Levemir® and NovoLog® is available by contacting Novo Nordisk or visiting http://www.novonordiskcare.com.
About Levemir® and NovoLog®
Indications & Usage:
Levemir ® (insulin detemir rDNA origin] injection) is man-made long-acting insulin that is used to control high blood sugar in adults and children with diabetes mellitus.
NovoLog ® (insulin aspart [rDNA origin] injection) is man-made insulin that is used to control high blood sugar in adults and children with diabetes mellitus.
Important Safety Information:
NovoLog® is a fast-acting insulin. You should eat a meal within 5 to 10 minutes after using NovoLog® to avoid low blood sugar. Do not inject NovoLog® if you do not plan to eat right after using NovoLog®.
Check your blood sugar levels while taking Levemir® and NovoLog®. Ask your health care provider what your blood sugars should be and when you should check your blood sugar levels. Alcohol, including beer and wine, may affect your blood sugar when you take these insulins.
Do not change the type of insulin you use unless told to do so by your health care provider. The amount of insulin you take as well as the best time for you to take your insulin may need to change if you take a different type of insulin.
Do not mix NovoLog® with any other insulins when used in a pump or with any insulins other than NPH when used with injections by syringe.
Never mix Levemir® with other insulin products or use in an insulin pump.
Do not take Levemir® and NovoLog® if your blood sugar is too low (hypoglycemia) or if you are allergic to these medications or any of the ingredients in them. If you take too much of these insulins your blood sugar may fall too low.
Tell your health care provider about all medicines you take and all of your medical conditions, including if you are pregnant or breastfeeding. Your Levemir® and NovoLog® dose may change if you take other medicines.
The most common side effect of insulin therapy, including Levemir® and NovoLog® is low blood sugar (hypoglycemia). Other possible side effects include reactions at the injection site (like redness, swelling and itching), and allergic reactions. Get medical help right away if you experience signs of serious allergic reaction such as body rash, trouble with your breathing, fast heartbeat, or sweating. Ask your doctor or pharmacist for further information.
FlexPen®, Levemir®, and NovoLog® are registered trademarks of Novo Nordisk A/S.
About Novo Nordisk
Novo Nordisk is a healthcare company with an 86-year history of innovation and achievement in diabetes care. The company has the broadest diabetes product portfolio in the industry, including the most advanced products within the area of insulin delivery systems. In addition to diabetes care, Novo Nordisk has a leading position within areas such as hemostasis management, growth hormone therapy, and hormone therapy for women. Novo Nordisk's business is driven by the Triple Bottom Line: a commitment to economic success, environmental soundness, and social responsibility to employees and customers. With headquarters in Denmark, Novo Nordisk employs more than 27,900 employees in 81 countries, and markets its products in 179 countries. Novo Nordisk's B shares are listed on the stock exchanges in Copenhagen and London. Its ADRs are listed on the New York Stock Exchange under the symbol 'NVO'. For global information, visit novonordisk.com; for United States information, visit http://www.novonordisk-us.com.
For further information please contact:
Media:
Ambre Morley
(609) 987-5898
abmo(at)novonordisk.com
Investors:
Hans Rommer
(609) 919-7937
hrmm(at)novonordisk.com
© 2009 Novo Nordisk 138772 June 2009
###