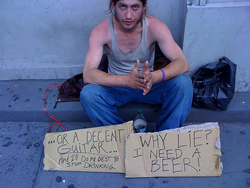 New York, NY (Vocus) July 7, 2009
As a web design company, Blue Fountain Media has always been on the cutting edge of design, whether it means using [flash web development](http://www.bluefountainmedia.com/web-design/online-videos.php ) to create an interactive site experience, or leveraging our ecommerce website design experience to give clients a site that generates the maximum amount of revenue.
But there's more to marketing than just having a great-looking, highly interactive website. Good marketing also relies on the ability to quickly "hook" viewers on an idea, to compel them to interact more, and eventually, to convince them to do something.
Every business does some kind of marketing, but some are more focused on it than others. For products that are most undifferentiated impulse buys, for example, branding is crucial -- Coca-Cola needs to rely on thirsty people thinking of them ahead of dozens of other brands.
One of the most brutally competitive businesses, particularly in New York city, is the begging business. Whether it's on the streets or in the subway, panhandlers are ubiquitous in New York. And when there are lots of panhandlers in a busy city, they have to compete for attention -- not just against all the other activity in the city, but against one another.
Blue Fountain Media's local homeless guy has panhandler marketing down to a science. Blue Fountain Media has adapted his savvy marketing techniques to a variety of customers, with great results. A few of the top techniques:

He's picked a location with lots of foot traffic, but it's also a place where people spend money. In fact, he's ten feet away from an all-cash food stand, meaning there are plenty of people with spare change at the ready.
He's written an entertaining ad. Instead of asking for pity, or telling a sad story, he's asking for beer money (and promising that he'll quit drinking if he gets more). People who give to him can feel amused and virtuous at the same time.
He's borrowed heavily from precursors: it's not the first panhandling sign asking for beer money, but that's an effective pitch! At Blue Fountain Media, we never hesitate to imitate our competitors when they get something right.
He's testing his ads. At Blue Fountain Media, our marketing work is never done -- we're always testing, modifying, and adapting as tastes change and new methods become effective.
A homeless person looking for beer money has a lot to teach the average marketer. Knowing where to look for new ideas is one thing, but being able to spot ideas wherever they are is another matter entirely. So far, adapting these ideas to online marketing has given our clients a boost in their traffic and sales. Surprisingly, it turns out bums know how to rake in the cash.
###