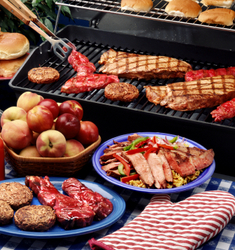 Most of the gas that is passed during the day is caused from swallowed air that results from chewing gum, drinking carbonated beverages, or eating or drinking too quickly
East Longmeadow, MA (PRWEB) July 6, 2009
Fourth of July celebrations are around the corner, which means one thing…BBQ season is officially underway.
However, traditional barbecue fare - hot dogs, baked beans and alcohol - may leave you gassy during the fireworks extravaganza. Patricia Raymond, M.D., gastroenterologist and assistant professor of Clinical Internal Medicine at Eastern Virginia Medical School, says that we all experience flatulence and that there are ways to reduce the symptoms and prevent it from occurring on a regular basis. Though it may seem obvious, altering one's diet is the best way to avoid gas in the first place.
"What a person eats can directly affect the amount of gas they experience," says Dr. Raymond. "Therefore, it is important to recognize reactions that you have several hours after eating or drinking certain products, such as dairy or vegetables, for example."
According to Dr. Raymond, here are some guidelines for reducing and preventing gas:

Limit Gassy Foods: Carbohydrates (sugars, fiber, starches) are difficult to digest and often cause flatulence. "Foods, such as cabbage, beans, and onions are common foods that cause gas. If you decide to eat gassy foods, make sure to do it in moderation or opt for foods that cause less gas, such as foods with fat and protein."
Start a Food Diary: Keep track of your daily diet by downloading the new online food diary available on http://www.charcocaps.com . "This can be useful to monitor the symptoms you've experienced and figure out potential causes of gas after eating or drinking certain foods or beverages," says Dr. Raymond.
Take Your Time: When eating, make sure you chew food well and eat slowly to avoid excess swallowed air. "Most of the gas that is passed during the day is caused from swallowed air that results from chewing gum, drinking carbonated beverages, or eating or drinking too quickly," explains Dr. Raymond.
Use Activated Charcoal: If you do eat a gassy food, take an over-the-counter activated charcoal capsule, such as CharcoCaps Homeopathic AntiGas Formula, immediately. The activated charcoal will adsorb the gas and the odor. Adsorb means it attaches by chemical attraction and traps the chemicals, whereas absorb means penetration of a substance into another.
CharcoCaps provides fast, natural relief of intestinal gas pain, pressure and bloating. This over-the-counter activated charcoal brand stimulates and supports the body's own defenses against intestinal gas and the embarrassing symptoms associated with it by adsorbing the gas. CharcoCaps comes in easy-to-swallow capsules, and is available in the stomach-care aisle of leading drug stores, mass market retailers and supermarkets for a suggested retail price of $6.99 (for 36 capsules).
Visit http://www.charcocaps.com for additional information, to download the new online food diary, or to take the Gas Etiquette Quiz for a chance to win a monthly pre-paid gas(oline) card (while supplies last).
NOTE TO MEDIA: For more information or to speak with Patricia Raymond, MD, please contact Laurie Lindenbaum at 914-241-0086, ext. 26.
###