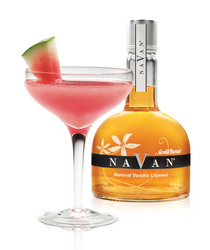 New York, NY (PRWEB) July 6, 2009
The Watermelon Daiquiri from NAVAN, the latest creation from the House of Grand Marnier, can be easily crafted at home and transported to any favorite summer spot. The NAVAN Watermelon Daiquiri is the freshest summer sipper on order, ideal for serving to guests on the porch, enjoying by the pool or packed in a cooler to go.
NAVAN Watermelon Daiquiri
.5 oz NAVAN Natural Vanilla Liqueur
1 oz 10 Cane Rum
3 chunks watermelon
.5 oz simple syrup
.25 oz lemon juice
Directions: Muddle the watermelon in the bottom of a mixing glass. Add the other ingredients. Shake and strain into a chilled martini glass. Garnish with a seeded watermelon slice.
About NAVAN
NAVAN® Natural Vanilla Liqueur is the most recent creation from the House of Grand Marnier®, world renowned for its expertise in making ultra premium liqueurs. Benefiting from Grand Marnier's unique heritage and craftsmanship, NAVAN is made exclusively with natural vanilla from Madagascar, considered the world's best. As such, NAVAN adds a natural vanilla twist to classic cocktails such as The Modern Margarita, yet is smooth and complex enough to be enjoyed neat or on the rocks. Exclusively imported by Moët Hennessy USA, NAVAN retails at $39.00 per 750-ml bottle, and is available nationally at chic night spots, fine restaurants, and wine and spirits retailers in all major US cities. http://www.navanworld.com
About 10 Cane
10 Cane is the "World's Best Rum," made from first press cane juice. Named after the tradition of hand-harvesting and bundling sugar cane stalks in groups of ten, 10 Cane represents the relaxed environment of Trinidad juxtaposed with the luxury and centuries-old expertise of Moët Hennessy. Produced in the sun-dappled, wind-swept island of Trinidad, 10 Cane is made from the first pressing of virgin sugar cane, grown and hand-harvested in the island's rich, volcanic soil. The canes are gently pressed to extract the purest, most flavorful juice. The first-press cane juice is then slowly fermented for five days at a controlled low-temperature and double-distilled in small batches in French pot stills. Finally, it is aged in oak barrels for the perfect amount of time, creating a smooth, light, and delicious rum. 10 Cane elevates any cocktail. Mojitos, martinis, frozen drinks, with cola or grapefruit juice, it goes with everything...or nothing. You can even drink it neat or on the rocks.
###