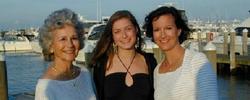 My initial reaction was, 'How wonderful it was that someone had tuned into women owned companies and recognized us and that we were finally complimented, especially in industries that are mostly male oriented,'
Springfield, MA (PRWEB) July 2, 2009
Bassett Boat Company has been a leading boat dealership for more than 68 years. Today, the company is a Sea Ray master dealer and also sells luxury Viking Sport Cruisers, from its three locations in Springfield, MA, Warwick, RI and Westbrook, CT.
Now a second-generation run company, Bassett Boat remains a family focused entity, which hosts numerous events throughout the year. For nine years, Bassett Boat has been consistently ranked among the Top Women-Led Businesses in Massachusetts by the Center for Women's Leadership at Babson College and the Commonwealth Institute.
Diane Bassett Zable, current owner/president of Bassett Boat, was very happy to hear the news nine years ago and remains thankful for her supportive husband and family.
"My initial reaction was, 'How wonderful it was that someone had tuned into women owned companies and recognized us and that we were finally complimented, especially in industries that are mostly male oriented,'" Bassett Zable said.
To learn more about the Bassett Boat Company, visit http://www.BassettBoat.com website.
###