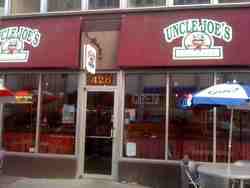 The Synergy team evaluated every aspect of our operation, from product procurement, preparation, service both in the restaurant as well as take-out and delivery, and our operations and financial structure
Anchorage, AK (Vocus) July 7, 2009
Synergy Restaurant Consultants retained for operations assessment by Uncle Joe's Pizzeria in Anchorage, AK.
While Joe White is pleased that his sales are up, a great place to be in this economy, he felt things could be much better. And he felt like he was stuck in a rut and in need of a jump start and operations assessment for his 16-year-old Pizzeria concept.
Joe retained Synergy Restaurant Consultants to evaluate his entire 4-unit operations via their top-down operations Assessment. The Operations Assessment was performed over a recent 5-day period, which included visits to each of the restaurant locations, the Central Production Kitchen, and spending time with Joe and his management team to analysis and assess their accountabilities, challenges and opportunities.
"The Synergy team evaluated every aspect of our operation, from product procurement, preparation, service both in the restaurant as well as take-out and delivery, and our operations and financial structure," explains Joe. "We also spent a great deal of time discussing marketing and sales building strategies that will have a an immediate, positive impact on our sale and bottom line profits. Prior to their departure, they compiled a list of recommendations for positive change, 'low hanging fruit', gleaned from the Operations Assessment, that we will begin working on as soon as possible."
In addition to observing operations, Synergy spent a great deal of time assessing menu selections for flavor, presentation, perceived value and consistency in preparation from location to location. Furthermore, they spent several hours perusing the competition, gathering information on competitive price comparison, quality evaluations and similarities in an effort to make recommendations that will differentiate Uncle Joe's Pizzeria from the rest of the pizza 'pack'.
Synergy provides a portfolio of turnkey restaurant solutions designed to help operators develop sustainable brands and scalable concepts for growth. Our solid hands-on experience in hundreds of restaurants across the United States, Canada, South America and Saudi Arabia has made us a trusted authority on innovation and restaurant operating efficiencies. http://www.synergyconsultants.com
###