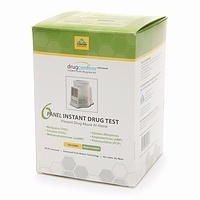 DrugConfirm is designed to help parents take a proactive role in preventing their children's illegal drug use
San Diego (Vocus) July 3, 2009 –
A new urine drug test kit called DrugConfirm™ is the ideal drug testing solution for individuals that want a fast and accurate instant drug test. Developed by Biotech Company Confirm BioSciences, the cup has a sleek, innovative design and incorporates new Push Button Technology. It's also very competitively priced compared to the other urine cup products that are currently being sold on the market.
DrugConfirm is the first of its kind, and tests for 6 different types of illegal drugs: Marijuana, Cocaine, Opiates (Heroin), Methamphetamines, PCP, and Amphetamines. It is also important to note that all tests are manufactured here in the Unites States.
The advantages of DrugConfirm over other urine-based, at-home drug testing kits include:
-99.9% accurate: FDA Approved, as reliable as lab tests. We recommend that all positive results to be sent to our laboratory for confirmation screening.
-Push Button Technology: The new DrugConfirm SplitScreen Cup is a fully integrated, self contained drug screening cup for detecting drugs and drug metabolites in urine. The Push Button technology ensures the integrity of both the sample and results.
-No leaks, no mess: Leak proof snap-top lid. Fully Integrated design eliminates handling of the urine.
-Secure Chamber Technology: Once the urine is collected and the button on the cup is pushed, the urine will be held in a secure chamber thus eliminating donor manipulation.
DrugConfirm has several other key features:
-Fast Results: Results are available within minutes after test administration.
-Private and Confidential: No personal information is required.
-Easy to use & convenient: This test is a simple process that you can do in the privacy -of your own home.
According to the National Drug Policy, "Marijuana is the most commonly used illicit drug". In 2000, over 3 million youths aged 12 to 17 used marijuana at least once during the past year (US Department of Health). Today more and more parents have the ability to implement drug testing policies within their households, helping deter their own children from becoming part of this statistic. DrugConfirm test results are instant, so parents can find out right away whether or not their loved ones are using. They also have the option to send the urine sample to the lab for a confirmation screening for extra validation.
Two-thirds of parents would ask their teenage son or daughter to take a home drug test as a means of keeping them away from drugs, according to a 2006 survey of 2,064 parents around the country by Washington, D.C.
"DrugConfirm is designed to help parents take a proactive role in preventing their children's illegal drug use," said Zeynep Ilgaz, CEO of Confirm BioSciences. "Talking with your child about drugs and taking preventive measures like drug testing can be a significant factor in preventing substance abuse."
"Parents are the number one deterrent to a teen's decision to use drugs", continued Ilgaz. Studies have shown that the average age of first drug use is 13; more than one-third of teens have used drugs, including almost one in six middle school students and 30% of their high school counterparts reporting marijuana use; and 13% of high school students report using drugs such as cocaine, crack or ecstasy.
"I can't even try a little. My dad can test me anytime".
Urine-based drug testing is a highly trusted method of drug detection, and now that we have found a way to decrease the likelihood that the urine will be tampered with, more and more people are starting to buy these cups.
Now DrugConfirm is available at Drugstore.com The kit costs $23.99, including prepaid shipping materials for lab, urinalysis report, lab fee, and a free counseling hotline.
About Confirm BioSciences
Confirm BioSciences is a provider of diagnostic health and test kits for drug testing, laboratory urinalysis and other services. The company is privately held and based in San Diego. For more information, visit http://www.confirmbiosciences.com.
© 2009 by Confirm BioSciences, Inc. All rights reserved.
###