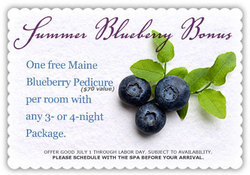 Ogunquit, Maine (PRWEB) July 9, 2009
Summer in Maine means blueberries. July 1 through Labor Day, The Cliff House Resort & Spa is offering one free Maine Blueberry Pedicure per room with any three- or four-night package. A $70 value, guests are asked to schedule with the Spa before arrival as this offer is subject to availability.
The Cliff House Resort & Spa offers a number of three- and four-night vacation packages. They include Seaside Shopper (an ideal girlfriend getaway), Spa & Golf Combo (active and relaxing), and Celebration (perfect for romantic retreats, special occasions like reunions and anniversaries, even a long weekend away.)
A unique travel incentive, the 'Summer Blueberry Bonus' is a 50-minute pedicure that combines the antioxidant benefits of blueberries with the deep moisturizing properties of our Blueberry Smoothie Mask. A warm Seashell Massage soothes the senses and improves circulation while perfect grooming and polish make you feel pretty down to your toes.
The Cliff House Resort & Spa is a classic Maine vacation spot with ocean-view accommodations, a world-class spa and oceanfront dining room. Guests can enjoy the best of Southern Maine travel in Ogunquit, Kennebunkport, Kittery and Freeport with nearby beaches, shopping, golf, museums, summer theater, even ocean cruises.
For more vacation ideas, visit http://www.cliffhousemaine.com.
The Cliff House Resort & Spa, located on 70 oceanfront acres in Southern Maine, offers premier guest services, fine dining, a world-class spa and conference facilities. The resort has been owned and operated by the Weare Family since 1872. More information is located on the Web at http://www.cliffhousemaine.com or by calling (207) 361-1000.
###