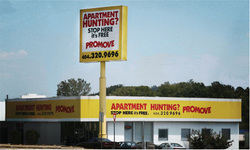 Atlanta, GA (PRWEB) July 6, 2009
In an effort to further expand its apartment search services, Promove has added apartment listings for Atlanta and Dallas universities. This service provides users with even more resources, allowing for a more exact and informative apartment search experience.
If a renter is looking for an apartment in either of these markets, Promove offers the most comprehensive information. When visiting the Promove Web site, users are given numerous options. These include searching for apartments based on budget, location, the number of rooms, pet policies, move in specials, and more.
Promove is a unique, service-based company. Their services are designed to provide renters with the best and most helpful tools. For students searching for apartments near their university of college, Promove is an invaluable resource.
Renters contact Promove and describe the specifics of their apartment search. A Promove associate then assists in the apartment search. When an apartment is found, the Promove associate gathers information, including the most recent pricing updates, the condition of the apartment, when it is available, and the terms of the lease. No charge is presented to the user. An agreement between Promove and the property owner allows for a cost free user experience.
The Dallas and Atlanta university markets include a variety of schools and locations. In the Atlanta area, Mercer University apartments are featured with a wealth of information and special move in offers.
Dallas is also a prominent university city. There, searches for Art Institute of Dallas apartments turns up dozens of available properties, which are located in neighborhoods in and around the college. These apartments range in cost, size and location.
Each apartments search is unique. But one thing stays the same when renters search for apartments through Promove: a free service that ensures users will find the apartments they are looking for. Users also have the knowledge that they are working with area professionals who understand the culture and intricacies of each individual neighborhood and property information.
Promove is the most complete apartments search resource. For renters interested in locating their ideal apartment, with the most options and superior customer service, Promove is the answer. Now, with even more markets in Dallas and Atlanta university neighborhoods, Promove is once again demonstrating why it is the most trusted and effective service for renters searching online for their next home.
The next step is in the hands of the person searching for an apartment. With the information provided above, the services of Promove are made clear. If you are ready to rent, and, for example, are searching for Morehouse College apartments, visit Promove today. It's the only way to move.
###