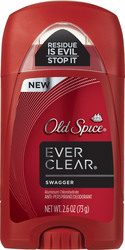 Cincinnati (PRWEB) July 6, 2009
Old Spice, the nation's leading male deodorant brand, today announced results from its first Personal Style Survey revealing factors that define personal style for guys, and the things that can ruin it. Old Spice partnered with AOL Black Voices, http://www.blackvoices.com, the Web's most trafficked site for African Americans, surveying more than 4,000 men and women in May 2009 with some surprising results, including the little talked about but big grooming problem of underarm residue.
"Through our survey with AOL Black Voices, Old Spice was able to reach thousands of consumers to get their thoughts on personal style, and uncovered a grooming topic that we feel deserves more attention - unsightly underarm residue," said James Moorhead, Old Spice Deodorant Brand Manager. "The survey revealed that people are very aware when someone else is suffering from those nasty white clumps, streaks and flakes that deodorants sometimes leave behind. Ladies especially notice and want guys to do something about it. We developed Ever Clear with residue in mind, and the survey reinforces why we brought this breakthrough new deodorant to the market."
Old Spice Ever Clear's launch coincides with the start of summer, a time when guys start wearing less clothes and underarm residue becomes even more visible. Featuring a revolutionary new low residue technology, Ever Clear has less white powders and waxes and contains small particles that blend right into the skin, providing a consistent and clear layer of long-lasting scented protection.
Survey highlights include:

Two-thirds of respondents agreed that personal style has more to do with being comfortable in your own skin, not about dressing to impress.
Nine out of 10 respondents reported that good grooming habits play a larger role in defining personal style than most people think. In fact, 89 percent of women revealed that a good smelling man is what seals the deal.
Half of guys surveyed admit to having underarm residue, which is especially a concern for those with darker skin tones where it tends to be more visible.
It's a no-brainer that ladies are turned off by stank dragon breath, dry, cracked lips or a booger in a guy's nose. But women surveyed ranked smelly armpits with disgusting white streaks and dangling bits of deodorant as the second biggest turn-off among grooming no-no's.
Guys might not give a second thought to underarm residue, but the ladies are looking. Those nasty white clumps, streaks and flakes get their attention - and not in a good way - with 63 percent of women reporting that they notice whenever a guy has underarm residue.
An even bigger problem: 70 percent of women surveyed think guys are clueless when it comes to just how disgusting underarm residue really is.
The ladies have spoken and agree underarm residue is something they don't want to see. In fact, 31 percent ranked the problem as very disgusting. There's no denying, it's time to start talking - and doing something about - evil residue.
Old Spice Ever Clear is available in After Hours, Pure Sport, Showtime and Swagger scents with a SRP of $4.29 for a 2.6 oz stick. To learn more about Ever Clear and the entire Old Spice family of products, visit http://www.oldspice.com.
About AOL Black Voices:
AOL's Black Voices, is the No. 1 online destination for African-American news, culture and community and has been for all of 2008. With more than 5 million unique visitors, this service features original stories and programming areas including News, Sports, Work & Money, Lifestyle, Entertainment and Community, in addition to some of AOL's most popular blogs: Style Spotter, Entertainment Newswire, BV Buzz, Casually Obsessed and More than Words.
About Old Spice:
Procter & Gamble's Old Spice is the quintessential men's grooming brand. With more than 70 years as an American icon, Old Spice is the authority on the male grooming experience and has leveraged this heritage to become the No.1 selling anti-perspirant/deodorant stick and body wash brand with guys of all ages. Old Spice brings authenticity, performance and confidence to male grooming and offers a wide product portfolio for today's man, including anti-perspirants, deodorants, body washes, body sprays, after shaves and colognes.
About Procter & Gamble (NYSE:PG)
Three billion times a day, P&G brands touch the lives of people around the world. The company has one of the strongest portfolios of trusted, quality, leadership brands, including Pampers®, Tide®, Ariel®, Always®, Whisper®, Pantene®, Mach3®, Bounty®, Dawn®, Pringles®, Folgers®, Charmin®, Downy®, Lenor®, Iams®, Crest®, Oral-B®, Actonel®, Duracell®, Olay®, Head & Shoulders®, Wella, Gillette®, and Braun. The P&G community consists of over 135,000 employees working in over 80 countries worldwide. Please visit http://www.pg.com for the latest news and in-depth information about P&G and its brands.
###