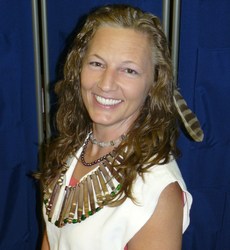 In Native American society, illness and disease bring the patient closer to spirit.
Hillsborough, NC (Vocus) July 6, 2009
Cultural expert Laine Cunningham spent the last ten months working with the EarthStar Spiritual Center to become certified as a Master Shaman. For over a decade, she has immersed herself in the traditions of Native American, Australian Aboriginal and Hawaiian peoples. She discovered that these tribal cultures offer solutions for the modern world's most pressing issues.
For example, she was invited on a radio show to discuss the native take on the swine flu epidemic. Cunningham talked about the Hawaiian concept of kokua, which emphasizes the support every person should offer their friends and family in times of trouble. In Australia, sickness always points to a problem either with the patient or in the larger society. Everyone works together to solve the issue in order to heal the sick.
She also appeared for a recent television program to discuss abundance. Every culture seems to have its own approach to creating joy and the material goods that make life comfortable. In Australia, singing and storytelling play critical roles. The land is sung up to ensure that it provides plenty of food, shelter and water. Native Americans rely on the potlatch. They give away gifts and generate abundance when the gifts are returned to them fourfold from other sources.
This month she recorded a subscription-based podcast with a psychologist on women's issues. After sharing the story of the six months she spent camping alone in the outback, Cunningham offered native perspectives on a host of women's issues. The conversation touched on how mothers can create simple ceremonies to mark their preteen daughters' movement into womanhood. She also shared what women of every age can do to support themselves spiritually.
For a recent televised program, she offered different perspectives on chronic illness and debilitating injuries. People who suffer long-term or life-changing ailments often feel as if they've lost part of their lives. Cunningham says it's important to acknowledge that, and to acknowledge the person's new role. "Whenever a person heals themselves from a disease, they are able to help others heal from that same disease," she says.
Often patients have visions that turn out to be important to their families, communities or society as a whole. Black Elk had his famous vision while suffering an fever as a child. Cunningham says that's because "In Native American society, illness and disease bring the patient closer to spirit."
EarthStar's certification program was a way for Cunningham to further her commitment to the people she works with through her public speaking engagements. The spiritual center, based in Greensboro, NC, offered the series of workshops for the first time starting in 2008. The center is a nonprofit organization dedicated to providing interfaith perspectives for growth and service. In 2005, Cunningham was ordained as an interfaith minister through that church.
Although she has always been drawn to ancient cultures, Cunningham's journey began in earnest back in 1993. She sold everything she owned then spent six months camping alone in the Australian outback. Every day she cruised the rough desert roads in a twenty-year-old Ford sedan. Every evening she cooked over an open fire and listened to the dingoes circle her campsite. She also learned to play the didgeridoo, a traditional Aboriginal wind instrument.
After moving to Minnesota, she connected with a Native American community and began attending ceremonies. She has performed workshops on spirituality and personal growth on White Earth Reservation. She has performed spiritual, craft and storytelling programs for cities, churches, art and cultural organizations, colleges and K-12 schools across the United States.
This fall, Cunningham will launch a series of nonfiction books based on native perspectives. The first, Seven Sisters, pairs Australian Aboriginal stories with essays that outline solutions to modern problems. The answers cover topics as diverse as marriage and courtship, community relationships, warfare and spirituality. As Cunningham points out, "People haven't changed much in thousands of years. Lessons that centuries old still ring true today."
Aboriginal communities relied heavily on their relationships with neighbors, family and friends. It's natural, then, that Seven Sisters offers quite a bit of advice on enhancing modern relationships. Women and men will find the book a valuable resource when dealing with career issues, implementing their dreams, and understanding intimate relationships.
Cunningham is available as a keynote speaker. She has developed seminars and workshops that help people integrate the spiritual lessons offered by native cultures. She has appeared in MSNBC's The Well-Mannered Traveler, the Sydney Morning Herald, USA Today, Awareness magazine, and dozens of radio shows and TV programs. She is available on short notice and can be reached at 336-267-6572.
Her first novel, Message Stick, weaves Aboriginal dreamtime tales and culture into a modern story of suspense. When Gabriel Branch searches the outback for his best friend, he faces a murderous shaman and the Aboriginal heritage he lost long ago. The novel has won two national awards and was featured in a celebrity swag bag soon after it was published. For more information, visit her website at http://www.lainecunningham.com.
###