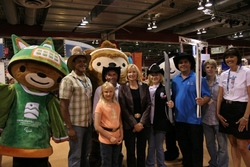 (PRWEB) July 4, 2009
Minister Gary Lunn, Mrs. Laureen Harper and her daughter, Rachel, were at the Canada Pavilion during the Calgary Stampede along with Nathaniel Miller, athlete in the 2008 Beijing Olympic Games in Water Polo, Courtenay Ferguson and Adriano Fisico torchbearers, Vaughn Chipeur, 2010 hopeful in Figure Skating, Renée Smith-Valade of VANOC, as well as Miga, Quatchi and Sumi, the Vancouver 2010 Winter Games mascots.
The Calgary Stampede is one of the largest and most renowned stampedes in the world, attracting over one million visitors every year, a large number of which find their way to the Canada Pavilion. Several government departments will be showcased in the Canada Pavilion, including the Canada Border Services Agency who will be promoting its programs to help travelers and trade goods enter Canada smoothly, enforcing laws and keeping threats to safety and health out of Canada. Other departments featured at the Canada Pavilion include: Canadian Heritage, Service Canada, National Capital Commission, Agriculture and Agri-Food Canada, Canada Food Inspection Agency, Canada Revenue Agency, Canadian International Development Agency, Financial Consumer Agency of Canada and the Royal Canadian Mint, on July 4 and 6.
This year's Canada Pavilion theme is the Vancouver 2010 Winter Games--an international event that will give this country a unique opportunity to showcase itself to the world.
Canada Pavilion visitors will have the opportunity to meet with representatives from the Government of Canada and learn more about the 2010 Winter Games through a series of educational displays and interactive activities. See a replica Olympic Torch, find out when the Torch Relay will be coming near their community using a giant map and Internet station, try out an Olympic bobsleigh and take a closer look at a sit-ski used in Paralympic ski events.
Visitors will also have the chance to personally meet Miga, Quatchi and Sumi, the 2010 Winter Games mascots - inspired by local Aboriginal mythological creatures - who will be on hand to entertain the young and young at heart.
The Pavilion also features the Afghanistan360° exhibit. This offers Canadians the opportunity to learn about progress in the six focused areas in which Canada is providing assistance in Afghanistan: training Afghan National Security Forces, assisting the Government of Afghanistan in providing basic services to its population, providing life-saving humanitarian assistance, enhancing border security, facilitating political reconciliation, and helping the Afghan government to increase the capacity for democratic governance and national institutions.
During the 2009-2010, the Canada Pavilion visits 10 communities across the country. As the flagship exhibit of the Government of Canada Exhibitions Program, the Canada Pavilion has won numerous prizes since its creation in 2000 and provided information to more than six million visitors.
For more information on Government of Canada programs and services, visit canada.gc.ca or call toll-free at 1 800 O-Canada (1-800-622-6232). For more information on the Government of Canada Exhibitions Program and its 2009-2010 tour, visit http://www.tpsgc-pwgsc.gc.ca/expo/index-eng.html.
# # #