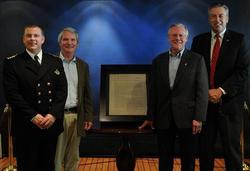 Juneau, Alaska (Vocus) July 5, 2009 -
Celebrating the Fourth of July and Alaska's 50th anniversary of statehood, Princess Cruises showcased a rare, original copy of the United States of America's founding document aboard Coral Princess Thursday during an onboard reception with local dignitaries and special guests. Pictured with the historic document from left to right include:

Coral Princess Captain Justin Lawes
Win Gruening, senior vice president of Key Bank and grandson of Ernest Gruening who was territorial governor of Alaska from 1939-1953 and U.S.senator from 1959-1969
Senator Dennis Egan, state senator and past mayor of Juneau. His father William Egan was the first governor of the state of Alaska from 1959-1966
Bruce Bustamante, vice president of community and government affairs, Princess Cruises and Tours.
The document was aboard Coral Princess to give passengers the unique opportunity to view the only traveling copy of the Declaration of Independence. This rare document is being showcased to more than 17,000 passengers aboard all eight Princess ships visiting Juneau during Independence week, July 1-8.
Hosted in partnership with Declare Yourself, a non-profit organization founded by legendary television producer Norman Lear, this unique opportunity marks the first time the copy of the Declaration has visited Alaska, and the first time a cruise line has shown the famous document.
The only touring copy of the Declaration of Independence, Declare Yourself's historic document is one of an estimated 200 original broadside copies (about the size of a sheet of newspaper) printed by John Dunlap in Philadelphia in 1776 after it was drafted by Thomas Jefferson, to distribute across the colonies and to King George in England. This copy's current journey began in 1989 when a Pennsylvania shopper bought a frame at a flea market for $4.00. Later, while inspecting a tear in the back of the painting, he discovered a piece of paper wedged between the frame and painting. He pulled it out and uncovered what would soon be authenticated as the 25th remaining copy of the Declaration of Independence. The document changed hands several times and was purchased in 2000 by Lyn and Norman Lear for $8.14 million, with the goal of bringing the document directly to the American people.
Declare Yourself is a national nonpartisan, nonprofit campaign that was founded in 2003 to empower and encourage every eligible 18-year-old in America to register to vote. For more information about Declare Yourself, visit http://www.DeclareYourself.com.
Additional information about Princess Cruises is available through a professional travel agent, by calling 1-800-PRINCESS, or by visiting the company's website at http://www.princess.com.
Princess can also be found on:
Facebook: http://www.facebook.com/PrincessCruises
Twitter: http://twitter.com/PrincessCruises
Flickr: http://www.flickr.com/photos/princesscruises/
About Princess Cruises:
One of the best-known names in cruising, Princess Cruises is a global cruise and tour company operating a fleet of 17 modern ships renowned for their innovative design and wide array of choices in dining, entertainment and amenities, all provided in an environment of exceptional customer service. A recognized leader in worldwide cruising, Princess offers its passengers the opportunity to escape to the top destinations around the globe, with sailings to all seven continents, ranging in length from seven to 107 days. The company is part of Carnival Corporation & plc (NYSE/LSE:CCL; NYSE:CUK).
Princess Cruises is a proud member of World's Leading Cruise Lines. Our exclusive alliance also includes Carnival Cruise Lines, Holland America, Cunard Line, Costa Cruises and The Yachts of Seabourn. Sharing a passion to please each guest, and a commitment to quality and value, our member lines appeal to a wide range of lifestyles and budgets. Together we offer exciting and enriching cruise vacations to the world's most desirable destinations.
For further information contact:
Karen Candy, 661-753-1540
Julie Benson, 661-753-1530
News, background information and photography are always available in our online newsroom.
###