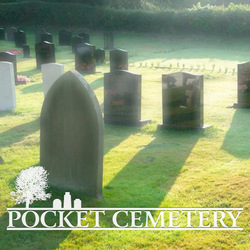 Schenectady, NY (PRWEB) July 6, 2009
Pocket Cemetery is the first iPhone application that allows users to create virtual memorials for departed loved ones using customizable tombstones with pictures, bios and favorite memories. Users can easily create personalized plots for relatives, friends, pets, celebrities or anyone they want to memorialize. Pocket Cemetery is presently available for the iPhone and iPod Touch with more versions on the way for the Blackberry and Palm platforms.
Aside from creating memorials, Pocket Cemetery also allows users to place virtual flowers on graves along with sending personal prayers and messages to dead loved ones. This unusual phone application was developed by Wayne Perry, president of GSC Products after he began researching the idea of using technology to create a virtual cemetery to preserve the memories of his dead loved ones.
"I was thinking of my grandparents and other deceased relatives buried in different cemeteries around the country. I also thought of pets I've lost over the years. I thought how I'd like to visit their graves on a regular basis, but it's simply impossible. That's when the idea hit me. If I could carry the memories of departed loved ones on my iPhone, I could pay my respects whenever I feel like it. Even though they're buried in different places and some have even been cremated, I wanted to find a way to bring them all together," says Perry.
Pocket Cemetery is a way to keep lost loved ones close in death while also creating a virtual ancestral database. Users can share their memorials with living friends and family through email so departed loved ones will never be forgotten. The Pocket Cemetery website also offers free blog space to users so they can share memories of their departed loved ones with the world.
"We're all so busy these days and it's easy to forget to pay your respects to dead loved ones even when you think of them often. I feel so bad that it's been ten years since I laid flowers on my grandmother's grave, but with this application I can send her flowers and pay my respects whenever the feeling hits me. It makes me feel closer to my departed loved ones," adds Perry.
Perry says he's received numerous requests for pre-release versions of Pocket Cemetery from Michael Jackson fans who want to create their own memorials to remember the King of Pop, after he uploaded his own Michael Jackson memorial to YouTube. GSC Products is offering to email copies of their Michael Jackson memorial to any fans who request it at info@PocketCemetery.com.
"I've gotten over 1,000 requests for Pocket Cemetery since I added the Michael Jackson memorial to my YouTube channel last week. Many of his fans want to create their own memorials since they cannot be at his funeral on Tuesday," says Perry.
Pocket Cemetery is available for $2.99 with unlimited free lifetime updates as the database grows to include other interactive applications such as real flower deliveries to grave sites, virtual candles, charitable contributions and audio sermons delivered in the names of departed loved ones. Pocket Cemetery is presently available for download at iTunes.
Media interviews and promotional downloads are available upon request for qualified professionals.
###