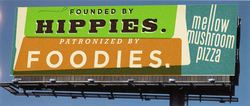 Home of mood altering substances. Like pizza.
Atlanta, Ga. (PRWEB) July 6, 2009
Mellow Mushroom today announces the launch of an aspirational and often irreverent multi-market billboard campaign, Web site redesign and online marketing initiative: "Optimism, as expressed in pizza."
Founded in 1974, Mellow Mushroom turns 35 this year and, sticking to its youthful spirit, is celebrating with its most aggressive marketing campaign ever.
"Mellow Mushroom continues to grow by maintaining strong community roots and a unique casual dining atmosphere," said Michael Shemtov, director of the pizza bakery's marketing team. "Mellow Mushroom remains a sunny spot in the daily lives of many who enjoy our relaxed, bohemian-chic atmosphere."
Mellow Mushroom has tapped Markham Unlimited, a creative advertising agency, and BrandCottage, the company's media strategy firm, to help manage the new brand campaign, which will also include messaging such as:

"Founded by Hippies. Patronized by foodies."
"Antidepressants available without a prescription."
"Home of mood altering substances. Like pizza."
"Happiness as expressed in pizza."
"It's a rare opportunity to get to work with a brand that has such a rich history and truly unique ingredients to their culture," said Markham Cronin, the creative director of Markham Unlimited. "We look forward to making a very cool brand even cooler."
The billboard campaign is one of many marketing initiatives that Mellow Mushroom is launching in 2009, including a new Web site by MODE, a branding and interactive agency. The new Web site makes it easy for patrons to visit Facebook fan pages for local restaurants, explore restaurant communities and stay up to date on local promotions and events. Mellow Mushroom will also expand its brand campaign to include Web advertising, other social media marketing tools and traditional advertising.
"Mellow Mushroom is an optimistic entrepreneurial company that continues to expand and employ exciting new media strategies," said Patricia Wilson, the president of BrandCottage. "Mellow Mushroom has the commitment and a solid customer reputation it takes to move ahead."
About Mellow Mushroom:
Founded by three Georgia college students, the first Mellow Mushroom, a funky hole-in-the-wall pizza joint, opened its doors in 1974 and quickly attracted crowds that spilled out onto the sidewalks. Recognizing that they had something special, the founders opened a second location within a year and began franchising 10 years later. These days, the Mellow Mushroom collection features 100 locations sprinkled throughout Southeastern college towns and beyond. Touted as "bohemian-chic," each location has its own unique flair while maintaining the fun, energetic and trendy atmosphere that distinguishes Mellow Mushroom from the typical pizza joint. By standing firmly behind their goal of serving the finest product possible in terms of health and taste, the Mellow Mushroom name has become synonymous with quality. Visit mellowmushroom.com for merchandise, menus and locations.
About Markham Unlimited:
Markham Unlimited is a creative branding firm based in Coral Gables, Fla. Markham Unlimted was founded four years ago by acclaimed veteran creative director Markham Cronin, alumni of agencies such as Crispin Porter and Bogusky and Carmichael Lynch. A small group of dedicated branding experts, Markham Unlimited works with a select group of clients across the country to creatively build and execute their brands in everything they do. For more information, visit markhamunlimited.com.
About BrandCottage:
BrandCottage is a new kind of media marketing company that addresses the changing communications needs of clients and their customers. In a rapidly evolving media climate, BrandCottage enables marketers to harness the power of media - new and old - to drive business results. With offices in New York, Atlanta and Washington, D.C., the BrandCottage team consists of experts in media planning, media buying, digital marketing, direct response, social marketing, mobile, content management, public relations, Web 2.0 and more. For more information, visit brandcottage.com.
About MODE:
MODE is a branding and interactive agency that is passionate about creating and supporting strong, powerful brands. Whether collaborating with a cultural icon or crafting the identity of a new business, we combine and expertise in visual communications with an intelligent use of technology to create conversations between our clients and their audience. We rely on a process that addresses business needs and thrives on exchange, conversation and exploration. For more information, visit madebymode.com.
###