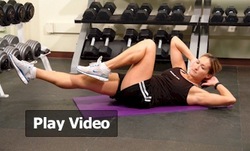 At the same time, it also rewards website owners who promote our product line.
Tempe, AZ (PRWEB) July 7, 2009
Workoutz.com has launched an affiliate program that allows users to earn commissions on sales of high performance exercise equipment and services. The affiliate program is professionally managed by ShareASale; a company that provides advertisers and merchants with tracking, reporting, and payment services.
"Our partnership with ShareASale allows us to better harness the power of affiliate marketing as a means of increasing sales," says Justin Leonard, founder of Workoutz.com. "At the same time, it also rewards website owners who promote our product line."
Users who register at http://www.workoutz.com/affiliate_program.htm are provided with access to custom widgets and webmaster tools that can be posted on websites, blogs, and within emails. Affiliates also have access to real-time tracking statistics, website banners, custom text links, coupon codes, and exclusive promotional offers.
The affiliate program works when a website owner posts a text link or banner advertisement on their personal website that directs customers to Workoutz.com. Each text link or banner is tied to a unique affiliate ID for tracking purposes. If a user clicks through to Workoutz.com and makes a purchase within 30 days, the referring affiliate receives a 10 percent commission.
The Workoutz.com affiliate program is open to any web marketer and has already proven to be successful. Within a few hours after the initial launch, the website received hundreds of affiliates from around the world. According to Leonard, "Workoutz.com has a vast range of affiliates that encompass everything from cooking sites to mixed martial arts sites. People from all walks of life understand the importance of fitness and the value of what we have to offer."
About Workoutz.com
Workoutz.com is a free workout video website that provides comprehensive instruction for hundreds of exercises. The website features high definition video clips in several categories including aerobic, strength, yoga, athletic conditioning, stretching, and more. Users can download any exercise to their computer or personal digital assistant at no cost. Exercise programs are also available free of charge. Workoutz.com is also a retailer of specialized exercise equipment.
###