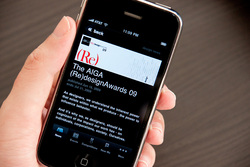 New York, NY (PRWEB) July 6, 2009
Dexigner announced the release of the new Dexigner app for iPhone and iPod touch, an ideal companion for designers and design lovers. The app gives iPhone and iPod touch users access the Dexigner content from anywhere. Users will be able to quickly get latest design news, events, exhibitions, conferences, and design competitions.
The application also offers an easy access to designers, companies, consultancies and their contact & location information from the Dexigner's Design Directory.
The application has several sections including:

News: Latest news from the leading online portal for designers.
Events: Current design exhibitions, conferences, seminars, competitions and awards.
Near Me acquires the users location and shows a complete list of all the design related places - designers, museums, organizations, design studios, etc, along with the distance from where the user is located. Users can view the selected listing's contact information, view it on a map, or call directly from their iPhone.
Search: Find news, events, designers, studios, organizations, and museums.
Dexigner for iPhone is available for free worldwide from Apple's App Store on iPhone and iPod touch or at itunes.apple.com
About Dexigner
Delivering design related news, events, competitions, and resources, Dexigner Design Portal is the leading online portal for designers. Dexigner also provides a design directory, database, agenda and weekly newsletter.
Design Directory
The Design Directory is a hierarchically arranged directory of design resources, including designers, design companies, design studios, organizations, museums, portfolios, consultancies and many more.
Design Database
Design Database is a comprehensive list of designers, design studios and design firms including photos, fields, location and contact information.
Dexigner Newsletter
Monthly roundup of design news, events and competitions from the #1 portal for design related information. Already more than 40.000 subscribers.
Design Agenda
Design Agenda, the most complete list of design events, keeps you up-to-date on current and upcoming design competitions, exhibitions and conferences.
###