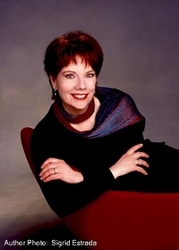 No one wants to hear 'Wandering into the kitchen for a cup of coffee' every day. I eat, I write, I sleep. I'm boring
Seattle, WA (PRWEB) July 7, 2009
New York Times Bestselling novelist Jayne Ann Krentz brings one of her most popular characters, a gruff, brooding private investigator named Fallon Jones, to the cell phones and laptops of readers everywhere.
While looking for new methods of connecting with readers, Jayne Ann Krentz initially dismissed Twitter as a good way for her to keep in touch. "No one wants to hear 'Wandering into the kitchen for a cup of coffee' every day. I eat, I write, I sleep. I'm boring," she says.
But instead of writing about what she is doing, Jayne takes her tweets further and is publishing a micro-novel from the perspective of Fallon Jones, 140 characters at a time. Fallon's brusque style of communication makes him an ideal candidate for micro-blogging. Newcomers as well as long-time readers of the series will enjoy this new Arcane Society mystery. Fallon will start a case in July and close it in December, just in time for the release of Fired Up, Book 7 in the Arcane Society Series.
The Arcane Society is a clandestine organization dedicated to paranormal research that has existed since the late 1600s. It is currently locked in a secret battle with Nightshade, a conspiracy of rogue psychics.
"This is the latest version of the old-fashioned serialized novel," says Jayne Ann Krentz, bestselling author of the Arcane Society series. "It's a challenge and a lot of fun to write. I'm really looking forward to hearing back from my readers as the story unfolds."
Fallon Jones and his latest case can be followed on Twitter at http://www.twitter.com/ArcaneSociety
About Jayne Ann Krentz:
Jayne Ann Krentz is the author of over 40 consecutive New York Times bestsellers. She writes romantic-suspense with a paranormal twist. From her home in Seattle, Washington, Jayne is currently working on book 8 of her popular Arcane Society series, which includes titles written by her alter egos Amanda Quick (historical) and Jayne Castle (futuristic). When not working on a novel, Jayne can be found posting messages on Facebook or helping Fallon Jones on Twitter.
Web: http://www.JayneAnnKrentz.com
###