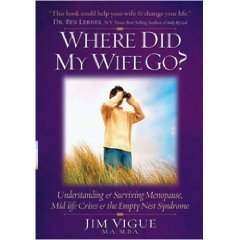 It is gratifying that my book is being mentioned in the same breath as Chicken Soup for the Soul
(PRWEB) July 8, 2009
Award-Winning Where Did My Wife Go? Helps Men Save Their Marriages and Relationships In Spite Of Menopause, Mid-Life Crises and Empty Nest Syndrome
Author Jim Vigue's mailbox is regularly stuffed with thank-you messages from both men and women because his new book is helping marriages across the nation by offering practical ways to navigate the choppy waters of women's midlife transitions.
Vigue was recently named a medal winner of an IPPY Award from the Independent Publisher Book Awards for exhibiting the courage, innovation, and creativity to bring about change. A total of 4,090 entries were submitted throughout the United States, Canada and 12 English-speaking countries overseas. The Awards Committee cited Vigue's book as a superb example of someone's tackling an important subject that most authors would avoid.
"This award is very well deserved as this book is a remarkably sensitive explanation of this incredibly complex, but common and emotionally dangerous, life transition that menopause and midlife crises represent," said Lars Boman, MD, Diplomat of the American Academy of Anti-Aging Medicine
Author Named Finalist Along With Mark Victor Hansen and Jack Canfield For Book Award
Next Generation Indie Book Awards (Canada) named Jim Vigue a finalist along with 150-million-plus booksellers and mega-authors Mark Victor Hansen and Jack Canfield. (Chicken Soup for the Soul Series)
"It is gratifying that my book is being mentioned in the same breath as Chicken Soup for the Soul," said Vigue. "We are getting great testimonials from readers who have been helped by the book but this industry recognition is also very encouraging."
Vigue has a Master's Degree in leadership from Duquesne University and an MBA from the University of Dallas. He is CEO of the Hamilton Foundation, a 20-year-old 501C3 nonprofit organization. The foundation's website is http://www.menonpause.org.
###