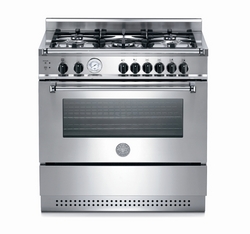 The result is a proud and meticulous, yet practical design that will be the focal point in every kitchen, completing any décor from the traditional to the contemporary.
Guastalla, Italy (PRWEB) July 7, 2009
Bertazzoni, the leading Italian manufacturer of precision-engineered kitchen lifestyle products, today announced it will add a new line to its product mix with the addition of the bold, professional-grade Master Series. Featuring a strong, sophisticated look and technologically advanced features, the ranges represent a compelling new line for people who enjoy cooking. The Master Series extends Bertazzoni's longstanding commitment to providing consumers with high-quality value proposition-based products. This series, along with the Professional and Heritage Series already in the market, is offered at a significantly more attractive price point than comparable competitive products.
"For this particular series, we have taken the traditional styling of a commercial range and infused it with Italian finesse," said Paolo Bertazzoni, the company's fifth generation president. "The result is a proud and meticulous, yet practical design that will be the focal point in every kitchen, completing any décor from the traditional to the contemporary."
As the third of three distinctive product lines offered by Bertazzoni -- adding to the Professional Series and Heritage Series -- the Master Series completes the European brand's wide array of design choices available to consumers. The Heritage Series features a classic style that celebrates the company's rich history of innovation and excellence; the Professional Series offers clean lines and streamlined elegance; and the Master Series presents the perfect blend of power and passion.
The Bold Master Series - Precision Model Blends Sophistication and Reliability
The stylish Master Series commands immediate appeal with its large round knobs, double professional-style handle and captivating temperature gauge on the control panel. In addition, Bertazzoni's more than 100 years of engineering expertise ensures maximum power and performance. With its signature one-piece high-efficiency worktop, large-capacity gas convection oven and full-width infrared gas broiler, the Master Series combines a legendary cooking experience with the superior fit and finish customers have come to appreciate from the Italian manufacturer.
Available in 30-inch four-burner and 36-inch five-burner sizes, the all-gas, stainless steel ranges will include the following features:

Bertazzoni's triple-ring burners--with separately controlled flames--are based on a new high-efficiency burner technology that generates up to 15,000 Btu
Dedicated simmer burner for the utmost in delicate cooking
Premier one-piece work top styling with uniquely sealed burners and a seamless surface for quick and easy clean-up
Heavy-duty cast iron grates for easy movement of any kind of pot; plus a wok adapter and simmer plate
Child-safe valves on all burners that stop gas flow if the flame goes out--even in a power outage
Easy one-touch ignition systems
Uniquely balanced air-flow fan, which provides even heat distribution for single and multi-level roasting and baking--without flavor crossover
Settings include traditional operation for roasting and baking or a full range of convection cooking modes.
Wide-area infrared gas grill perfect for powerful searing and broiling over a large surface area
Triple-glaze door to ensure minimal heat loss and low-temperature external surfaces
Matching backsplashes and adjustable ventilator hoods with three settings for extraction levels of unwanted steam and heat.
The Master Series will be available August 2009. Suggested retail pricing ranges from $2,299 to $3,349 for the products within the Master Series.
About Bertazzoni:
Bertazzoni is a fifth generation family-owned company, specializing in the production of ranges and cooking systems characterized by elegant, ergonomic designs, performance, professional quality, and incomparable value. Throughout its 127 years of operation, Bertazzoni and its stoves have been synonymous with Italian culture, style and engineering. Available first in Italy in 1882 and now sold internationally in more than 60 countries, with the latest being Dubai and Brazil, Bertazzoni products have become an affordable indulgence for the inspired chef--combining streamlined architectural sophistication with precision-engineered cooking performance.
In the Emilia-Romagna region of Italy where cooking is culture in the home of balsamic vinegar and parmesan cheese, the original Bertazzoni factory can still be found. Today, under the vision and leadership of Paolo Bertazzoni, the same quality craftsmanship and family legacy of entrepreneurial spirit endures. Bertazzoni's complete line of freestanding ranges, built-in cook tops, ventilation hoods and other design-coordinated accessories are represented through regionally-exclusive distributors and sales offices throughout the United States and Canada. For more information, visit http://www.bertazzoni-italia.com or call 1-866-905-0010.
###