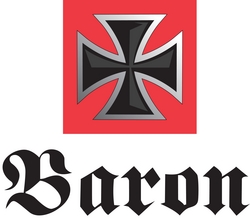 We've had a great deal of success in the surf/skate/snow apparel realm and now we're branching into golf and tennis, which are natural audiences for products like ours
San Diego, CA (PRWEB) July 8, 2009
Baron Apparel, Makers of The Original Iron Cross Polo Shirt, announced today the launch of their Summer line of polo shirts. In addition to the best-selling Black, Red, White and Navy, the company has added Celtic Green, a St. Patrick's Day favorite, Forest Green and Sky Blue.
"We've had a great deal of success in the surf/skate/snow apparel realm and now we're branching into golf and tennis, which are natural audiences for products like ours," said Lance Barnhardt, VP of Marketing for Baron Apparel. "While we are the new polo shirt of choice for young people, we have a ton of older people that love the brand, which tells us that we're doing something right."
Baroness
Additionally, the company has plans to launch the Baroness line of polo shirts for women in the fall of 2009. The women's line will feature a lightweight organic cotton weave and a five-button neckline and unique colors.
Barnhardt continued, "We've made significant inroads in our sales in Europe, Australia and Latin America, particularly Chile and Argentina, and we feel that now is the right time to put together marketing and sales teams in those regions."
In keeping with the international expansion, Baron Apparel named Christie Elisabeth Verney as Brand Evangelist and "Head Anzac" for Australia and New Zealand. Ms. Verney will be based in Brisbane, on the Gold Coast of Australia.
The company also announced plans to sign several up-and-coming skaters to sponsorship deals. "We have our eye on a few skaters in San Diego and the Bay Area who are on the cusp of breaking out." said Barnhardt. Interested skaters are asked to send videos via their YouTube URLs to Mr. Barnhardt at pics@baronapparel.com.
Retailers interested in joining the Select Baron Apparel Distribution Network should email distributor@baronapparel.com.
About Baron Apparel
Baron Apparel Polo Shirts are made from 100% Organic Cotton and Dyes and are designed in California. Baron shirts are sold in The USA, Canada, The Netherlands, Sweden, Germany, Denmark, Poland, Serbia, UAE, Chile, Argentina, Australia and New Zealand. For more information visit http://www.baronapparel.com or email info (at) baronapparel.com
CONTACT:
Lance Barnhardt
Vice President - Marketing
http://www.baronapparel.com
760.666.7275
###