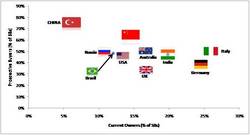 Based on expressed purchase intentions, it would appear the near term opportunity for Netbook manufacturers is to target larger SBs. This also means that we could see a bump up in shipment volumes into the SB market
San Jose, CA (PRWEB) July 8, 2009
Small businesses across both emerging market and mature market countries continue to be an important driver of mobility products. Of late, Small businesses have begun adopting Netbooks. Techaisle's new survey of Small Businesses in 10 countries (China, Brazil, Russia, US, Turkey, Australia, UK, India, Germany, Italy) shows that over 80 percent of Small Businesses are aware of Netbooks. While only 16 percent of Small Businesses currently own Netbooks, 52 percent of SBs that do not currently have Netbooks are likely to buy suggesting that a large percentage of Netbooks are likely to find their way into small businesses.
Where are the Netbooks Buyers
The current uptake of Netbooks has been largely driven by very small businesses (< than 10 employees). The data suggests however, that future Netbook buyers will come from larger SBs with between 20 and 99 employees. "Based on expressed purchase intentions, it would appear the near term opportunity for Netbook manufacturers is to target larger SBs. This also means that we could see a bump up in shipment volumes into the SB market" says Abhijeet Rane, Techaisle.
Netbook manufacturers would do well to boost sales and marketing efforts in countries like China and Turkey where SBs exhibit the greatest purchase intent. "There is significant opportunity in all the countries surveyed but China is a clear standout in terms of near term demand" says Anurag Agrawal, Techaisle. In addition to new buyers likely to enter the market, repeat purchase intentions among existing Netbook owners also runs high with over 65 percent of Netbook owning SBs stating they are likely to buy more Netbooks.
Current and future buyers are attracted to Netbooks for the low weight, price and greater battery life. Accessing company email is the most popular application used followed by browsing the web while traveling.
About Techaisle
Techaisle is a market research and consulting company focused on Emerging Markets, Emerging Technologies and Interactive Entertainment. Techaisle has pioneered a business model which is very different from traditional market research organizations. Techaisle provides actionable data delivered as an answer to a specific question. Techaisle's Market Data-as-a-Service offered through http://www.marketviewportal.com makes available for purchase just the data that clients need, from market opportunity to individual channel partner contact details in Mumbai. Our segmentation algorithms are easily understood, easily deployable and drive actual sales and market understanding. Techaisle's blog is available at http://techaisle.wordpress.com
Survey data and analytics referred to in the release are available for purchase. For more information on Techaisle or our global products/services, please visit http://www.techaisle.com or call 408-914-2989.
###