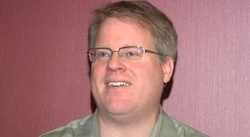 New extremely powerful tools are coming out enabling you to build specific, advanced searches that can help you identify patterns of usage and review what people are saying around a specific topic
San Francisco, CA (PRWEB) July 7, 2009
Blogger Robert Scoble (scobleizer.com) says the refinement of search-capability, being done by himself and others to monitor trends in the aggregation of real-time social Web data, will make it possible for individuals to obtain a stream of desired information based on personal preferences. Scoble believes this development will have similar game-changing implications for users of social media applications such as Facebook.
A video interview with Scoble discussing the significance of advanced social search is featured on IdeasProject, a unique website developed by Nokia. IdeasProject is an online "information space" that provides a new way to interact with thought leaders and their big ideas about the future of connected communications. For more on Scoble's big idea, visit: http://www.ideasproject.com/idea_person.webui?id=4306
"New extremely powerful tools are coming out enabling you to build specific, advanced searches that can help you identify patterns of usage and review what people are saying around a specific topic," said Scoble. "I feel something is just about to happen that will make it possible for you to tell this world, I'm interested in "X" and have a stream of "X" come at you."
"Scoble is one of the earliest adopters of social media technology," said Valerie Buckingham, Director of Technology Marketing, Nokia. "With his latest creation, Building43, Scoble is channeling the power of the Web to further advance Web 2.0 and expand sharing capabilities. For Scoble, social search is the most significant advancement in the industry since Google. We look forward to sharing more of Scoble's provocative thoughts on the power of social media's evolving search features on IdeasProject."
Over the next several months, editors from the IdeasProject are featuring their favorite ideas as submitted by the public and sending a Nokia N95 to the 'Big Thinker' who contributed. Share and submit your 'Big Idea' with the world by visiting http://master.ideasproject.com/userideasubmit.webui
About Robert Scoble
Robert Scoble is best known for his blog, Scobleizer, which came to prominence during his tenure as a technical evangelist at Microsoft. He currently works for Rackspace and is building a community for people fanatical about the Internet called Building43. During the mid-90's, Scoble helped co-chair the Visual Basic SIG for SDForum, and was a frequent attendee and organizer for numerous local tech user groups. His background working for Winnov (manufacturer of webcams), where he was very active in Microsoft's NetMeeting support newsgroups, and for Fast Company as a video blogger, epitomizes the way Scoble has combined an affinity for video, journalism and the Web to pioneer new ways to connect. He was named a Microsoft MVP for this activity and maintaining a busy NetMeeting information website. His formative employment as a blogger also includes UserLand Software, a content management and blogging software startup. Scoble has long been a prominent advocate of both RSS technology and the Tablet PC.
About IdeasProject
IdeasProject, a project of Nokia hosted at http://www.ideasproject.com, brings together the most visionary and influential "big thinkers" to contemplate the big ideas that matter most to the future of communications. It is a new kind of conversation platform aimed at uncovering the connections between these thought leaders and their disruptive ideas. Explore the IdeasProject website, subscribe to its RSS feed, join its Twitter feed (IdeasProject), and come back often to learn about great new big ideas as they break.
About Nokia
Nokia is the world leader in mobility, driving the transformation and growth of the converging Internet and communications industries. We make a wide range of mobile devices with services and software that enable people to experience music, navigation, video, television, imaging, games, business mobility and more. Developing and growing our offering of consumer Internet services, as well as our enterprise solutions and software, is a key area of focus. We also provide equipment, solutions and services for communications networks through Nokia Siemens Networks.
###