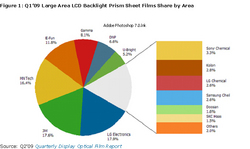 ) TFT LCD backlight in Q1'09 (Figure 1). The prism sheet market is very fragmented. LG Electronics is the leader with 17.9% share, followed closely by 3M with 17.6%, and then MNTech with 16.4%. The following figure shows the large area (10
Austin, TX (Vocus) July 8, 2009
In its newly-released Quarterly Display Optical Film Report, DisplaySearch indicated that Q2'09 demand for large-area TFT LCD backlight optical film grew by more than 22% Q/Q, to 56 million square meters from 45.9 million square meters in Q1'09. The growth was driven by expansion of LCD TV area and the recovery of production of notebook PC and monitor panels. Due to growing interest in green LCD TV panels, new designs have reduced the number of lamps in the backlight unit by adding brightness improvement films. Looking forward to Q3'09, the market is expected to grow by 11% Q/Q, creating a business opportunity for film makers who can provide improved technology.
In DisplaySearch's definition, backlight optical films are films or sheets in TFT LCD backlight units that improve luminance efficiency, recycle luminance in the backlight system, or diffuse brightness for uniformity. There are five main types of films, each with its own market dynamics. Table 1 (attached) shows the demand forecast for those five types of the backlight film.

Normal Prism Sheet: Prism sheet is a micro-replicated prism-structure film used in LCD backlight units to enhance luminance by directing light from the light source (CCFL or LED). The most common prism sheet is 3M's BEF (brightness enhancement film).
Multi-Functional Prism Sheet: Multi-functional prism sheet is an advanced film that combines the prism and diffuser functions by using beads, doping or surface micro-lens structures to direct the light with higher efficiency than normal prism sheet.
Micro-Lens Film: Micro-lens film combines diffuser and prism functions in one film by using a micro-lens array structure. Many LCD TV panel makers replace conventional prism sheets with micro-lens films.
Reflective Polarizer (DBEF): Reflective polarizer or DBEF (dual brightness enhancement film) is a 3M proprietary technology that reflects light that is not properly polarized back into the backlight unit. After reflection inside the backlight, the light may be properly polarized and thus passed through the film. A reflective polarizer can increase brightness by more than 30% and is the most efficient among the alternative film solutions.
Diffuser Film: This film diffuses the light inside the backlight system for the better brightness uniformity. The new trend is to transform it to a gain diffuser, which can increase the brightness.
In the report, DisplaySearch indicates the market share of prism sheet area used in large-area (10" ) TFT LCD backlight in Q1'09 (Figure 1). The prism sheet market is very fragmented. LG Electronics is the leader with 17.9% share, followed closely by 3M with 17.6%, and then MNTech with 16.4%. The following figure shows the large area (10" ) TFT LCD backlight prism sheet market share by shipment area in Q1'09.
"Films that improve the brightness of the backlight and the LCD module are very important for cost reduction and green panel design," noted Brian Chen, DisplaySearch TFT LCD & Materials Research Director and the author of the Quarterly Display Optical Film Report. "However, while the area demand is growing, there is also cost pressure in the optical film market that affects the revenues of the suppliers. This trend is likely to continue for the next few years, continuing to make technical improvements to reduce production and materials cost is the most critical focus for the backlight optical film suppliers." He added, "We observed the trend towards green panels, especially in LCD TVs, has raised the demand for reflective polarizer (DBEF) and the supply is increasingly tight."
The DisplaySearch Quarterly Display Optical Film Report is ideal for panel buyers, film makers and product planners interested in details of optical film technology and market dynamics. Polarizers, TAC, PVA, compensation films, surface treatment films, wide viewing angle films, prism sheets, micro-lens films, reflective polarizers, diffusers, and reflector films are covered in the report. The report covers basic introduction, technical evolutions, market forecast, capacity profiles, value chain relationships, as well as cost and price, for each of these films. For information on the DisplaySearch Quarterly Display Optical Film Report, contact Charles Camaroto at 1.888.436.7673 or 1.516.625.2452, e-mail contact (at) displaysearch (dot) com or contact your regional DisplaySearch office in China, Japan, Korea or Taiwan.
Register now for DisplaySearch's Fall Conference Series, taking place September 1-3 in San Jose, California. DisplaySearch will host three, one-day conferences covering the display industry's hottest market segments:

For more information about these conferences and sponsorship opportunities, please contact Laura Castellano at 1.408.226.1101 or laura_castellano (at) displaysearch (dot) com. Media interested in attending the conferences should contact Stacey Voorhees-Harmon at 1.925.336.9592 or Stacey (at) savvypublicrelations (dot) net.
About DisplaySearch
DisplaySearch, an NPD Group Company, has a core team of 57 employees, located in Europe, North America and Asia, who produce a valued suite of FPD-related market forecasts, technology assessments, surveys, studies and analyses. Visit the DisplaySearch blog to read about how our top analysts are interpreting up-to-the-minute issues that impact the display industry, and join us in this discussion about technology and the flat panel industry. The company also organizes influential events worldwide. Headquartered in Austin, Texas, DisplaySearch has regional operations in Chicago, Houston, Kyoto, London, San Diego, San Jose, Seoul, Shenzhen, Taipei and Tokyo, and the company is on the web at http://www.displaysearch.com/ .
About The NPD Group, Inc.
The NPD Group is the leading provider of reliable and comprehensive consumer and retail information for a wide range of industries. Today, more than 1,700 manufacturers, retailers, and service companies rely on NPD to help them drive critical business decisions at the global, national, and local market levels. NPD helps our clients to identify new business opportunities and guide product development, marketing, sales, merchandising, and other functions. Information is available for the following industry sectors: automotive, beauty, commercial technology, consumer technology, entertainment, fashion, food and beverage, foodservice, home, office supplies, software, sports, toys, and wireless. For more information, contact us or visit http://www.npd.com/ and http://www.npdgroupblog.com/ .
Media Contact:
Stacey Voorhees-Harmon
Public Relations
Phone: 925-336-9592
###