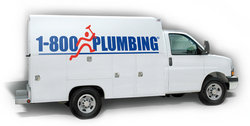 Cranston, RI (PRWEB) July 7, 2009
Autiello Plumbing & Heating , Based in Cranston, Rhode Island has made a smart marketing decision by adopting the 1-800-PLUMBING phone number that will enhance their marketing and advertising. For more information go to: http://www.800plumbing.com/plumbers/providence-plumber
Autiello Plumbing & Heating (June 1, 2009) is one of the latest plumbing companies to utilize smart marketing strategies by signing up to use the vanity number "1-800-PLUMBING". Autiello Plumbing & Heating has been providing quality services to residential and commercial customers in Rhode Island since 1999. Autiello Plumbing's reputation for quality workmanship and top notch customer service has allowed them to become one of Rhode Island's most preferred plumbing companies.
With four service trucks on the road covering the entire state of Rhode Island their service offerings include all types of plumbing, drain cleaning and general service work. Some of the service specialties that they do include radiant heating and snow melt systems. They also offer heating systems with new oil /gas boiler installation. Autiello Plumbing is planning on going green with geothermal and solar systems.
Autiello Plumbing & Heating is utilizing "1-800-PLUMBING" to distinguish them from the competition. In this challenging economy they have started doing more work in the service field. They know that using the memorable "1-800-PLUMBING" vanity number will help boost service calls as they integrate it into their truck signage and on air advertising.
With the 1-800-PLUMBING phone number they are able to market their company using strategies that were not available before. The power of building top of mind awareness with the 1-800-PLUMBING number will accelerate the expansion of the service department and open many new opportunities for recognition in the local community.
Autiello Plumbing & Heating gives back to the local community by supporting local sports teams. They are also proud members of the local Chamber of Commerce.
Autiello Plumbing & Heating can be reached at 1-800-PLUMBING (1-800-758-6246)
http://www.800plumbing.com/plumbers/providence-plumber
1-800-PLUMBING INC., Headquarters P.O. Box 8025, Surprise, AZ 85374 Tel: 1-800-758-6298 http://www.800plumbing.com
###