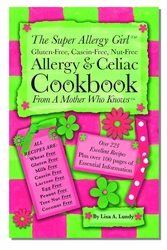 The Super Allergy Girl™ Allergy & Celiac Cookbook -From A Mother Who Knows™
Buffalo, New York (Vocus) July 9, 2009 -
For thousands of years special diets have been used to improve or completely resolve health problems. Today there are a host of different therapeutic diets that consumers use to solve health issues including diarrhea, constipation, irritable bowel, gastrointestinal issues like bloating and gas, headaches, joint and muscle pain, acid refux, ADD, ADHD, depression, irritability, behavior issues, anxiety, which you can watch here. Motivational speaker and cookbook author, Lisa A. Lundy, offers a free white paper on special diets, which you can download from her website at http://www.thesuperallergycookbook.com. The paper gives a brief overview on many of the more popular special diets used to improve health issues including the yeast-free diet, gluten-free diet or celiac diet, elimination diet, Feingold® Diet, GFCF diet (gluten-free and casein-free diet), the Ketogenic diet and the low oxalate diet.
In a book titled "The Gold-Headed Crane" by William MacMichael published in 1926, physician Matthew Baillie is quoted on this topic as saying:
"To judge the true skill and merit of a physician requires a competent knowledge of the science of medicine itself; but to gain the good opinion of the patient or his friends, there is perhaps no method so ready as to show expertness in the regulation of the diet of the sick. Discretion and judgment will, of course, be required; the rules should not be unnecessarily severe or rigid, otherwise they will not be followed; but the prudent physician will prescribe such laws as though not the best are yet the best that will be obeyed."
JWT, one of the largest advertising agencies in the world, listed gluten-free as one of the 90 things to watch in 2009. Foodnavigator.com, a free daily online news service and website in the food and beverage industry, estimates that the U.S. retail sales of gluten-free products has been growing at an annual rate of 27 percent since 2001. SPINS.com, a leading provider of information on the Natural Products Industry and its consumer dynamics, expects the gluten-free market to continue to grow by more than 25% per year through next year as more people are diagnosed with celiac disease.
Gluten is an amino acid sequence found in grains like wheat, rye, barley, some common oats and in some other grains. Celiac disease, an autoimmune disorder that runs in families, requires the use of a gluten-free diet as the treatment. According to the University of Chicago, Celiac Disease program approximately 97% of Americans with celiac disease do not yet know that they have it. With celiac disease estimated to affect about 1% of the U.S. population that number translates to nearly 3 million Americans who have yet to be diagnosed. As with most disorders and diseases, early diagnosis provides the best health outcome.
Ms. Lundy knows firsthand how difficult it can be to get diagnosed with celiac disease. She and her husband suspected their second son might have celiac disease from infancy, but it would take much longer and a great deal of research to reach a definitive diagnosis of celiac for their son. Even though celiac disease is a recognized by the medical community, it often takes people many years to be diagnosed with celiac disease.
Lundy's cookbook, "The Super Allergy Girl™ Allergy & Celiac Cookbook -From A Mother Who Knows™", is a gluten-free, casein-free, dairy-free, egg-free, peanut and tree-nut free and other allergen-free resource to help people on a gluten-free, GFCF diet, or allergy-restricted diet. Her book is available at http://www.TheSuperAllergyCookbook.com. She is passionate about helping people understand how they can use changes in their diet to resolve a wide variety of health issues and about getting the nearly 3 million Americans diagnosed with celiac disease.
Size: 6" x 9"
Pages: 405 pages
Soft Cover, Perfect Bound
ISBN#: 978-0-9797542-0-3
Price: $28.95
Contact: Ms. Lisa Lundy
Phone: (716) 835-6392
###