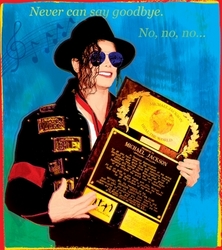 We'll never forget Michael Jackson's personal grace and the great appreciation he showed for everything at our museums
Hollywood, Calif. (PRWEB) July 7, 2009
As thousands of fans gather in and around the Staples Center in Los Angeles to celebrate the life of Michael Jackson, the Guinness World Records Museum in Hollywood will unveil a commemorative outdoor display and giant card to share and remember the King of Pop's 1992 appearance at the attraction.
Jackson devotees are invited to sign the card and view original artwork created by photowow.com from a photo taken of Jackson in front of the Hollywood landmark. The star was honored for breaking three Guinness World Records in what became his biggest public appearance in Hollywood next to getting his star on the Walk of Fame in November 1984.
The Michael Jackson tribute will remain in the lobby and is free to the public for people to enjoy and pay their respects.
"We'll never forget Michael Jackson's personal grace and the great appreciation he showed for everything at our museums," said Tej Sundher, partner in the family business that owns the Guinness World Records Museum and the Hollywood Wax Museum.
On the day of Jackson's appearance, the Guinness Museum was given five of Jackson's Gold Records and Cassettes. They have been displayed inside the museum ever since with a video highlight reel of his accomplishments and a wax figure of Jackson wearing a replica of his costume from Bad. Since his death, a case of artifacts has been added to the display as a memorial tribute to the legendary performer.
The Guinness World Records Museum of Hollywood is located at 6764 Hollywood Boulevard directly across the street from the Hollywood Wax Museum. It is open 365 days a year from 10 am to midnight.
###