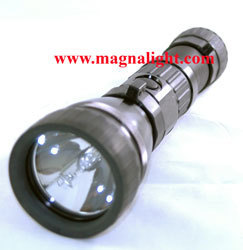 Kemp, TX (Vocus) July 8, 2009
Larson Electronic's Magnalight added a UL 783 compliant explosion proof flashlight that produces a bright white beam that reaches more than 1000 feet to its growing range of hazardous location lighting. As an alternative to conventional drop lights that produce a soft, wide flood style beam the ATX-20-S produces a narrower, focused beam of light which is effective for inspecting areas that are out of reach in larger tanks and vessels. The ATX-20-S offers 90 minutes run time per rechargeable battery and is compliant with UL 783 Class 1 Division 1 and Division 2 for groups A,B,C and D. As such, the ATX-20-S explosion proof flashlight is suitable for use in confined spaces where the persistent presence of flammable vapors is common.
Rob Bresnahan, with Larson Electronics, explained, "Late summer and early fall are popular times for plant maintenance. As manufacturing facilities and petrochemical based operations shut down plant operations for repair, the need for long range handheld spotlights increases. When dealing with resurfacing the inside of large tanks and vessels, operators need bright flood lights as well as a longer range, narrower spot beam. For that reason, we have very bright, yet portable flood lights, like our EPL-BS-70-100 for illuminating a general area with soft, white light for working. However, we also have the ATX-20-S, which is a 1200 lumen rechargeable flashlight that produces a 1500 foot long, bright white beam for inspection purposes. When operators need to examine areas for imperfections, a long range spot beam saves a lot of time, especially in larger tanks and vessels. Both of these lights carry a UL 783 Class 1 Division 1 safety rating for use in confined spaces that contain flammable vapors. The EPL-BS-70-100 also carries a Class II Division 1 rating, so it can be used in confined spaces laden with explosive dust, like coal, grain and sugar dust. The ATX-20-S is unique in that offers focused metal halide light in a lightweight, handheld format with UL 783 Class 1 Division 1 ratings for groups A, B, C and D. This unique, because there are not very many explosion proof hand lamps (drop lights) that offer Group B, which is hydrogen. This makes the ATX-20-S a pretty useful tool. With 90 minutes run time and rechargeable batteries that are easy to change, the ATX-20-S offers more versatility and utility than corded hand lamps, especially when working in areas where there is no ready source of electrical power. It is also a low voltage unit, operating on 12/24 volts from the battery, which makes it safe for wet areas as well. Compared to conventional explosion proof hand lamps, it is very easy to maintain in the field. The bulb or battery can be changed in under a minute. The metal halide bulb is rated for more than 2000 hours of continuous operation, so the need for changing the bulb is much less than conventional incandescent or fluorescent bulbs as well."
Larson Electronics offers a wide range of explosion proof lighting and ventilation options for use in hazardous areas. This includes explosion proof fluorescent paint spray booth lights, rechargeable Class 1 Division 1 led lights, 400 watt metal halide flood lights on carts and explosion proof black lights. In addition to providing UL rated lighting, Larson Electronics Magnalight continues to expand its range of explosion proof and intrinsically safe fans and blowers. The EPF-E16-4450 is the latest addition, which is an electric explosion proof blower that delivers 4450 CFM. You can learn more about Larson Electronics at http://www.magnalight.com or 1-800369-6671.
###