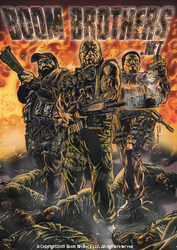 We're Gonna Need Bigger Guns
Indianapolis, IN (PRWEB) July 8, 2009 -
Wednesday, July 8th, marks the culmination of a journey that BoomBrothers.net fans all over the world have been waiting for. Every week for twelve weeks, a new chapter has been posted online as tens of thousands of loyal Boom Brothers readers have been glued to the edge of their keyboards reading how the three brothers have saved the day by taking out the world's trash one bag at a time. Now, Boom Brothers aficionados can revel in the final posting of the last episode, Chapter 13, a heart-pounding, gut-wrenching climax to the world's first, free online action and adventure novel. Each page of the novel includes images beautifully illustrated by internationally known artist, Luis Guaragna. In this last chapter of "We're Gonna Need Bigger Guns", the brothers get some payback when they take down Juan Jose Esparragoza, a sinister drug cartel czar also known as "El Azul".
The Boom Brothers story, based upon the lives of three real brothers, began in 1966 when the boys were teenagers and when their father, a decorated war hero and police officer, was brutally murdered by a gang of drug-dealing Satanists. Raised learning how to skillfully use their Daddy's war trophy weapons and to always do the right thing, the boys avenge their Father's untimely death by wiping out the whole cult of evil-doers. More opportunities for vigilante justice result as the brothers find out they have a talent and a taste for killing bad guys. And when the CIA, Delta Force, or Navy SEALS kick up too much dust for public scrutiny, the powers that be call on the Boom Brothers to get the job done.
In Chapter 13, El Azul's heavily fortified hacienda in the northern Mexican desert becomes a meeting place where the world's toughest characters come to push more drugs across the border and stage an overthrow of the United States in the process. Azul is joined by his own cartel thugs, Provisional Revolutionary Group politicos, bribed Mexican military personnel, wealthy underworld investors, and the swarthiest criminal of them all, Saddiq al-Mahar. Saddiq is an Al Queda financier who has come to provide the host with $30 million dollars to attack the U.S. using the cartel boss's connection with the 20,000 Mara Salvatrucha (MS-13) gang-bangers living in cities north of the border. Facing Azul's heavily armed security forces, Rico, Willy, and Dave are out-manned but not out-gunned as they bring their 25mm automatic chain gun "Betty", some advanced weaponry, and a bad attitude to the fight.
Boom Brothers LLC is dedicated to developing, producing, and managing branded online entertainment for consumers. Boom Brothers is associated with Creative Direction, Inc., a marketing communications practice dedicated to help grow companies through direct response and online marketing programs. For more information on Boom Brothers LLC, call 765-252-0751 or visit the web site at http://www.BoomBrothers.net.
###