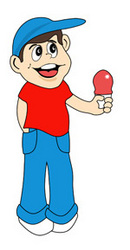 Times are hard for many people
Elizabeth, NJ (PRWEB) July 9, 2009
Dennis Moore, Vice President of New Jersey-based Little Jimmy's Italian Ice, always knew that the company logo, which features a little boy holding an ice, had great 'child appeal'. The only problem was that Jimmy had only ever been depicted in portrait fashion. "Fundamentally," Moore laughs, "our Jimmy has been a disembodied head for years!" Wanting to expand upon Jimmy's character and use his full potential as a brand image, Moore called in a UK design team who worked to create a body and clothes (actually a whole wardrobe) for Jimmy. Not only that, once the character had found his feet, so to speak, his persona further developed and Moore now feels that Jimmy would be perfectly suited to featuring in his own illustrated story books or work well as an animation online.
The original logo (see above) was based on a real boy, the youngest son of the company's founder Albert Moore - great-grandfather to Dennis and his brothers Anthony, Jeffery and Tommy. The business is still a family run affair, the Moore brothers' father, Harry, part owns the company with them.
The Jimmy character, Dennis Moore feels, is the archetypal all-American boy next-door with his happy grin and blue baseball cap. He's cute and slightly cheeky looking, the sort of kid that most people have come across at some time or another. The Moore family like the idea that Jimmy represents the company, and the product and the concession business they offer in a positive and hopeful way. "Times are hard for many people," says Dennis, "but the Jimmy character conveys what is good about the USA." It's an optimistic image, certainly. When you know a little of the Moore family's background it's not difficult to understand this sentiment. Albert Moore (originally Mauro) started the Little Jimmy's Italian Ice company over 75 years ago. A Sicilian immigrant, he came into the US via Ellis Island, and never looked back.
America really was the land of opportunity for him and future generations of the Moore family. And the Little Jimmy's mission statement seems to be one of positivity. A family business that offers a fun way to earn extra income by selling, well, a fun product! There's nothing somber about Little Jimmy's, the ices are colorful, so too the trucks, pushcarts and concession trailers. One concession holder described having a Little Jimmy's Italian Ice concession as the next best thing to being Willy Wonka in the eyes of his kids.
Although he's been around for over 75 years, Little Jimmy hasn't aged a bit. He might best be described as the Peter Pan of Popsicles. He's certainly the cool new kid on the block that is corporate branding. With his designer body and new wardrobe he looks set for great things.
The Little Jimmy's Italian Ice business started small but has now expanded to include concession holders who sell the desserts across 45 states in the USA.
Little Jimmy's Italian Ice headquarters are in New Jersey's vibrant city of Elizabeth, but 'Jimmy's' is a nationwide concern.
The recipe for Little Jimmy's Italian Ice really is a closely guarded secret, so much so that only two of the Moore brothers know it. All the ices are still made without the use of any modern machinery. There are 20 different flavors available.
###