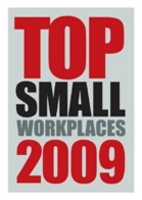 has effectively executed exemplary workplace practices that are making a meaningful difference in performance.
Holland, MI (PRWEB) July 9, 2009
Fleetwood Group was selected from over 325 nominated organizations across the United States as a finalist for The Wall Street Journal and Winning Workplaces 2009 Top Small Workplaces award. According to the notification letter, this award identifies the company as "a leader in understanding and employing innovative workplace practices as a driver of your business success."
It further describes Fleetwood Group as an organization that "has effectively executed exemplary workplace practices that are making a meaningful difference in performance." The final winners will be announced and featured in a September edition of The Wall Street Journal's Report on Small Business dedicated to the 2009 Top Small Workplaces.
"Being identified as a finalist is in itself a great honor for the Fleetwood Group," said Doug Ruch, its President & CEO. "It is a significant recognition of the creative and dedicated efforts by our 165 employee-owners." Ruch is also pleased that this announcement provides some much-needed positive news for the West Michigan area.
The next step is for Fleetwood Group to undergo a detailed evaluation by the Winning Workplaces team to assess the company from the inside and outside. This assessment includes conducting confidential interviews with Fleetwood Group employees, its outside accounting firm, its outside legal firm, and selected customers. The results of this detailed assessment will be used to determine whether the Fleetwood Group will be named in September as a 2009 Top Small Workplace.
This recognition is expected to provide added credibility in the company's efforts to both grow its furniture business and aggressively expand its electronics business into medical/healthcare, homeland security and alternative energy sectors.
About Fleetwood Group, Inc.:
Founded in 1955, Fleetwood Group, Inc. has a long, stable history of quality products and customer satisfaction. Fleetwood Group is a Christ-centered, 100% Employee-Owned company with a rich heritage and records of business achievement. The company has logged 70% growth over the past 5 years. In May 2006, Fleetwood was named by The ESOP Association as the #1 employee stock owned company among the approximately 2,000 wholly-owned and 11,000 partially-owned organizations in the USA.
The company is structured in two distinct units: Fleetwood Furniture, specializing in providing mobile and modular furniture solutions that create flexible learning spaces, allowing education to be delivered in the most effective manner. And Fleetwood Electronics, which specializes in the design and manufacturing of RF wireless electronics. Applications include command and control, wireless RFID tracking of personnel or assets, and short-range data communication technologies.
For more information about Fleetwood Group and its Product Divisions, please visit:
Fleetwood Group, Inc. http://www.fleetwoodgroup.com
Fleetwood Furniture Division http://www.fleetwoodfurniture.com
Fleetwood Electronics Division http://www.fleetwood-electronics.com
###