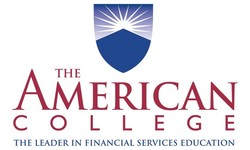 With all of the controversy and worry surrounding Social Security in recent months, the information in this webinar comes at a perfect time
Bryn Mawr, PA (PRWEB) July 9, 2009
"Understanding Social Security" will be the subject of a cutting edge webinar for financial service professionals on Tuesday, July 14, from 1 - 2 p.m. This American College Alumni Association-sponsored hour-long presentation will feature commentary from Social Security experts Kenn Beam Tacchino, JD, LLM, Director of the New York Life Center for Retirement Income and Bruce D. Schobel, CLU®, Vice President and Actuary, New York Life.
As part of their commitment to providing life-long educational opportunities, The American College Alumni Association has created the "Game-Changer Series," a group of monthly informative webinars featuring presentations from leading academic and industry thought leaders on topics of interest to the financial services community. "Understanding Social Security" will feature in-depth analysis of key concepts including eligibility, retirement benefits, other benefit amounts and tax treatment.
"With all of the controversy and worry surrounding Social Security in recent months, the information in this webinar comes at a perfect time," said Larry Barton, Ph.D., President and CEO of The American College. "Kenn and Bruce offer the kind of expert insight that only comes from intensive academic study and practical experience. This webinar will provide financial professionals the essential information they need pertaining to Social Security and its future."
Along with his duties as Director of the New York Life Center for Retirement Income, Kenn Beam Tacchino is also the Professor of Taxation and Financial Planning at Widener University and Editor of the Journal of Financial Services Professionals. The New York Life Center for Retirement Income focuses exclusively on educating financial planners about the complex decisions and challenges associated with retirement. Tacchino is the three-time winner of the School of Business Distinguished Graduate Teaching Award at Widener University.
As vice president and actuary with New York Life Insurance Company, Bruce D. Schobel, CLU®, is responsible for tax compliance matters including coverage and employee benefit issues. Schobel is considered both a national and international expert on Social Security, having served nine years with the Social Security Administration. He has testified before congressional committees and is the author or co-author of numerous educational works discussing Social Security.
The cost per webinar for the Game-Changer Series is $39.95 for members of The American College Alumni Association and $49.95 for non-members. Special package deals are also available for Alumni Association members. CE credit is available, where approved, for these webcasts. Registration and further information for The American College series of webcasts can be found at TheAmericanCollege.edu/GameChanger
The American College is dedicated to leadership in innovative training and development that helps financial services companies and their employees succeed. As a non-profit educational institution holding the highest level of academic accreditation, The College has served as a valued business partner to banks, brokerage firms, insurance companies and others for over 82 years. The American College's faculty represents some of the financial services industry's foremost thought leaders. For more information, visit TheAmericanCollege.edu
###