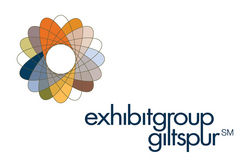 Winning this award validates EG's integrated marketing capabilities and our talented in-house creative team
Chicago, IL (PRWEB) July 8, 2009
Exhibitgroup/Giltspur (EG), a leading experiential marketing agency, won a Stevie Award for their Marketing and Interactive Multimedia entry in the 2009 American Business Awards. Frank Laudo, vice president and chief creative officer at Exhibitgroup/Giltspur, accepted the award at the Marriott Marquis Hotel in New York City on Monday, June 22. The ceremonies were hosted by Cheryl Casone of Fox Business Network and broadcast nationwide on radio by the Business TalkRadio Network.
Stevie Awards were presented in over 40 categories and included more than 2,600 entries from companies of all sizes from virtually every industry. In addition to the win in Marketing and Interactive Multimedia, EG was named as a finalist in six additional categories that recognize excellence in advertising, film and video productions, interactive multimedia, corporate literature, and sales.
"Winning this award validates EG's integrated marketing capabilities and our talented in-house creative team," said John Jastrem, president and CEO of Exhibitgroup/Giltspur. "As a company, we've continued to strengthen these offerings so our clients' programs will reap the benefits of richer touch points and elevated event marketing programs. The key is tying together all marketing initiatives to create one compelling, on-brand experience that customers will remember."
"The specific project that won this award, our e-brochure, is also a nod to greener marketing initiatives," said Gina McDuffie, vice president of marketing, Exhibitgroup/Giltspur. "EG is devoted to advancing more sustainable business practices. Marketing efforts such as electronic literature and our social media initiatives allow us to deepen relationships with customers and reduce our environmental impact."
More than 200 executives across the country participated in the judging process to determine the Finalists and Stevie Award winners. Details about The American Business Awards and the list of Finalists and Stevie Award winners are available at http://www.stevieawards.com/aba .
To view the award-winning e-brochure, please click here.
About Exhibitgroup/Giltspur (EG)
Exhibitgroup/Giltspur (EG) is an award-winning experiential marketing agency known for creating meaningful and memorable connections between leading companies and their customers. By producing powerful brand experiences through exhibits, events, mobile marketing tours, permanent installations, and temporary retail environments, EG helps clients accelerate the sales process, deepen brand loyalty and consistently deliver superior results. The company also creates branded entertainment experiences that surprise and delight audiences worldwide. Backed by the financial strength of its parent company, Viad Corp(NYSE: VVI), EG employs nearly 600 professionals in 28 client care centers throughout the world. For more information, please visit http://www.e-g.com .
About The Stevie Awards
Stevie Awards are conferred in four programs: The American Business Awards, The International Business Awards, The Stevie Awards for Women in Business, and the Stevie Awards for Sales & Customer Service. Honoring companies of all types and sizes and the people behind them, the Stevies recognize outstanding performances in the workplace worldwide. Learn more about The Stevie Awards at http://www.stevieawards.com .
Supporting sponsors of The 2009 American Business Awards include High Performance Technologies Inc., John Hancock, LifeLock, RCN Corporation, Softpro, and Ultimate Software. Media sponsor is the Business TalkRadio Network. Localization partner of the 2009 Stevie Awards is Lionbridge.
###