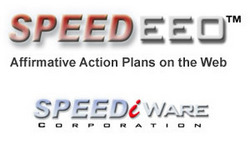 With SpeedEEO's ease-of-use and affordable pricing, it has long been a favorite Affirmative Action Plan solution for small to medium sized companies who could not afford the more costly solutions on the market
Dallas, TX (PRWEB) July 8, 2009
Speediware Corporation, developers of SpeedEEO, the original web-based software solution for generating OFCCP compliant Affirmative Action Plans (AAP), announced today the release of SpeedEEO Corporate Edition. The new release gives SpeedEEO users of all sizes the ideal Affirmative Action Planning solution at the guaranteed best price in the industry.
New SpeedEEO features include the ability for companies to import their employee data and create all organization plans in a single step. Additionally, a new Corporate Roll-up plan is automatically generated for all companies with more than one plan location.
The Corporate Edition includes all the previous features that clients have enjoyed along with the following new features:

Easy data import with data mapping - Data mapping allows users with different data layouts to easily import data. Errors are corrected on the fly through SpeedEEO's easy to use data editing which includes bulk data update features.
Plan Sets - Maintain the entire employee population for all locations of a company in one master plan set for each year. All plans are automatically created in one step instead of creating each plan separately. Hundreds of plans can be created with a single Plan Set with unlimited access to all Census data for customized recruiting locations. Best of all, Plan Sets can be carried over into subsequent plan years. This is the same great feature that has made SpeedEEO the fastest solution for easy ongoing Affirmative Action Plan maintenance.
Visual Plan Builder - SpeedEEO will automatically build plans for all locations within the company that meet the OFCCP criteria. SpeedEEO then allows users to view and customize the plans using the Visual Plan Builder, using drag-and-drop capabilities to move locations and reorganize the plans.
Corporate Roll-up - Automatic generation of Corporate Roll up reports for all plan sets containing multiple plans is provided at no cost. Online delivery of all AAP reports in electronic format, ready to print.
Automated Generation of Corporate Initiative - Automatic annotation for employees that report to managers in other plan locations. This ensures all corporate initiative is accurate and up to date regardless of changes made to the organization's plans.
Applicant Data Import - Import applicant data directly into SpeedEEO during the plan year. Easily map imported applicant data to the existing plan data to ensure data integrity. All applicant/hire data from SpeediARMS (Speediware's Applicant Tracking System) imports automatically into SpeedEEO.
On the fly Employee Roster and EEO-1 summary - Print up to date employee rosters and EEO-1 summary reports that include all new hires, promotions and terminations.
Visual Employee Movement History - Work with a real-time employee list for marking employees as terminated or promoting/transferring employees to new positions. See a complete history of all hires and movements for each employee during the plan year.
SpeedEEO provides the power to produce and maintain all reports and documents necessary for an OFCCP compliant Affirmative Action plan all within a web browser. Because SpeedEEO is a web-based solution, there is no need to load software on a computer. The only requirement is a Web Browser with Internet access, allowing customers to access their accounts from any location. With unlimited users and security options available at no additional cost, companies can collaborate and share work between multiple locations and employees.
"With SpeedEEO's ease-of-use and affordable pricing, it has long been a favorite Affirmative Action Plan solution for small to medium sized companies who could not afford the more costly solutions on the market," said Richard J. Simon, President and CEO of Speediware Corporation. "Now with the enhancements we have made in SpeedEEO Corporate Edition, SpeedEEO is poised to also become the best in class solution for larger companies as well as the small to medium sized companies."
Customers can get started using SpeedEEO today by signing up for an account online at http://www.speedeeo.com. SpeedEEO provides step-by-step guidance through the process to create 100% OFCCP compliant Affirmative Action Plans. As part of their superior customer support, Speediware provides free online and phone support to help with any questions, along with audit support and consultation. Once the AAP is complete, free plan review is available on request.
For customers who would prefer to outsource their AAP development, Speediware Corporation continues to offer the most affordable pricing on Affirmative Action Planning outsourcing services. Outsourcing continues to be a popular solution because all work is done in the customer's SpeedEEO account allowing them to log in and view the progress, print reports, and even take over the develop/maintenance of the plan(s) at any time.
Speediware Price Guarantee
With the release of the SpeedEEO Corporate Edition, Speediware Corporation continues to offer the best solutions for the HR professional at the most affordable price in the industry. Speediware promises to beat any quoted price for similar services, both software and outsourcing, while still providing Speediware's superior quality and customer support.
For additional information about using SpeedEEO for Affirmative Action Planning services, contact Speediware Sales at (866)4-YOUR-HR.
About Speediware Corporation
Headquartered in the Dallas Texas Metroplex area, Speediware Corporation is a privately-held company which leads the industry in providing innovative, easy-to-use, Web-based solutions geared toward simplifying the HR responsibilities for companies of all sizes. Founded in 2003, in an effort to provide the most cost-effective AAP solution to all companies while still offering the highest quality, Speediware Corporation consultants offer over of 30 years of industry experience.
This press release was distributed through eMediawire by Human Resources Marketer (HR Marketer: http://www.HRmarketer.com) on behalf of the company listed above.
###