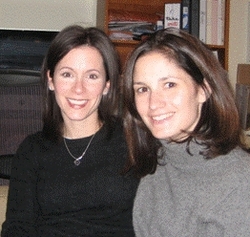 We've always been about helping other people like us - two enthusiastic, resourceful moms - succeed in the competitive marketplace. This doesn't mean we don't partner with larger product manufacturers, because we do, but one of the key benefits we offer both our suppliers and our customers is the chance for exposure to markets and products they may not get otherwise
Chicago, IL (PRWEB) July 9, 2009
Today's Goodie, a leading online discount boutique, launches its next generation of products - Today's Green Goodie.
Why this target segment? A few months back, the site's owners Shane Shaps (Louisville, KY) and Jacki Caplan (Chicago) were discussing ideas about how to continue to reduce, reuse, recycle in their own homes when they decided they wanted to take that notion one step further: Ask their customers to do the same. The best way to accomplish this, the pair reasons, is to post "Green Goodies" at a discount on their website, encouraging users to lessen their own footprints on the earth each day.
That's exactly what they're doing with the launch of Today's Green Goodie, which is live as of today, July 09, 2009. Green products target the company's existing audience of mommies and foodies, but Shaps and Caplan say they're expanding quickly to other markets as well. Visitors can find all products on the site's "Find a Goodie" page - items such as BPA-free baby bottles, Organic Bake 'mmm Bagels, Sen Cha Green Tea Bars and Mints, recycled glass wine carafes, and the requisite status symbol green goodie - the Green is Good Tote by Hayden Harnett.
However, environment-conscious shoppers will also find green goods they've yet to discover - at a discount. Inline with Today's Goodie start-up premise, the company seeks to uncover, promote and advance small product-makers who are just launching and who offer truly unique finds. For example, Today's Goodie has been featuring Bacon Salt (a vegetarian and Kosher seasoning) since long before it hit Oprah's airwaves and became a household name this spring.
"We've always been about helping other people like us - two enthusiastic, resourceful moms - succeed in the competitive marketplace. This doesn't mean we don't partner with larger product manufacturers, because we do, but one of the key benefits we offer both our suppliers and our customers is the chance for exposure to markets and products they may not get otherwise," Shaps says. "For example, I was in New York recently and found a local craftsman who made spectacular artwork using cardboard boxes. Someone in Portland might not be able to buy his work without a company like ours offering it."
Today's Goodie is not a large clearinghouse of random warehoused goods. Shaps hand-selects each item on their website, and both she and Caplan personally use many of them in their daily lives. Only caveat? They do not accept free merchandise - from anyone. Separating them from less-scrupulous outfits that promote or review products in exchange for getting them free, Shaps and Caplan have a policy about this: If they expect their customers to buy it, they should want to buy it as well. And they do.
"Our customers know they can trust us. If they have a question or a problem of any sort, Jacki or I address it. When you work with us in any capacity, you always get the owners. I think that makes us unique in a world of anonymous web-based shopping. We offer that corner-store experience. You know we're there for you - it's not a faceless transaction. In fact, our faces and stories - as well as those of our families - are all over our site, such as on our blog. We want our customers and partners to get to know us personally, because that's the way we operate. When you combine boutique service with discount prices and the convenience of online shopping, we think it's the best of all worlds."
Shaps says there will be quite a bit of overlap for its green products from the foodies and mommies sides of the site, as several of the items Today's Goodie already features are considered green. "We don't know everything there is to know about environmentalism, but we're taking steps toward being more responsible with natural resources. As a society, we're all learning together each day. If a new mom can buy a bamboo blanket that is good for baby and good for the earth, we're doing our part. We're saying to our customers 'We're on board and we want to make it easier for you to be on board, too.'"
###