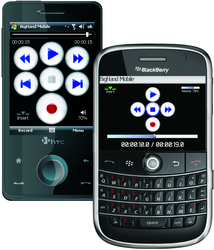 London, UK (PRWEB) July 9, 2009
BigHand, the leading voice productivity specialist for the global legal community, has today announced that leading Scottish law firms MacRoberts and Simpson & Marwick, ranked in the UK Top-250 as numbers 121 and 206 respectively, have replaced their existing Winscribe digital dictation systems with BigHand software. MacRoberts is currently in the process of implementing BigHand to 300 users across Edinburgh and Glasgow, and Simpson & Marwick has already completed its implementation to 175 users across 7 offices.
Robert Crichton, Network Manager at MacRoberts commented:
"The replacement of our Winscribe dictation system with BigHand incorporates 300 users across Edinburgh and Glasgow, plus up to 100 users of the BigHand for BlackBerry® mobile dictation application. Administration of the Winscribe system had become an irritation for the IT team; each time a dictation needed changing, for example reallocating or escalating, IT had to manually intervene.
Having researched providers in detail I am now delighted to be rolling out BigHand. Technology wise BigHand is the most advanced system we saw and we are excited to be implementing their BlackBerry dictation module, as well as integrations with WorkSite and LawSoft. BigHand's integration with WorkSite is particularly impressive and demonstrates why they are way ahead of the competition."
Graham Herd, IT Manager at Simpson & Marwick commented:
''Simpson & Marwick operates a Citrix infrastructure for all remote offices and this was fundamental in our decision to replace Winscribe with BigHand software. The performance of the Winscribe system was extremely problematic in a thin client environment, something now emphasised by the excellent functioning of the BigHand system on the same infrastructure. We also found the administration of Winscribe cumbersome, to the extent that system admin was so difficult it had become a manual process. In contrast BigHand administration hooks well into Active Directory making BigHand a far easier system to administer. BigHand also integrates with the Visualfiles system and their experience in delivering this was attractive to us.
The final component in our decision to switch was the lack of support we received for Winscribe; it was very awkward to get a resolution as we had no direct access to the developer. BigHand's implementation and support have been first class. Users prefer the BigHand interface and we have had such positive feedback, it is really great to deliver an IT project that makes such a difference to users' lives - it's not often that you receive such a positive response to an IT project. The final piece of the jigsaw is that we will be deploying BigHand for BlackBerry and Windows Mobile in the next couple of months.''
Contact:
Jo Beckwith, BigHand. Tel: +44 (0)20 7940 5946
About BigHand
BigHand is based out of Chicago, London, Sydney and Toronto. BigHand is the leading digital dictation vendor in the global professional services sector. BigHand3 was awarded 'Best of Breed System of the Year' at the Legal Technology Awards for 2008, and BigHand Mobile (BlackBerry Edition) was voted 'Mobile Product of the Year' at the CNET Business Technology Awards 2008. BigHand has also been nominated in the Sixth Annual Law Technology News (LTN) Awards for 2009 as 'Dictation System of the Year' and 'Mobile Tool of the Year'. Further information is available at http://www.bighand.com.
###