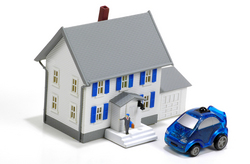 It is now a common thing for homeowners to experience unwanted guests in and around their home. Species range from the dreaded rats nest through to wasps and bugs. All can cause damage to our homes and garden so it is important people know how to spot signs of boarding beasts and more importantly how to get rid of them.
Cardiff (PRWEB) July 9, 2009
It seems Britain's green and pleasant land is home to more than meets the eye as research from Confused.com discovers what homeowners are sharing their nests with. As the UK experiences warm and moist weather, the conditions could also draw out the more sun loving scamps to share the rays with the rest of us.
Research from the house insurance price comparison website identified the bugs and beasties most commonly found in UK homes and gardens. The research also went on to establish the level of insurance knowledge homeowners have (or don't) in terms of extermination of unwanted guests.
Pest guests are seemingly common as 36% of respondents have shared their home with them. Gardens are also providing a haven for critters as a massive 60% of people claim to sharing their outdoor space with them. The cringe worthy, critter facts don't stop there as one respondent experienced a rat in the toilet!
It has been cited, over recent months that Britain is expected to experience an increase in vermin volumes. The research out today confirms this, as just fewer than 30% of people have witnessed an increase in sightings. The explanations behind increases in the pest populations vary, but some say it is down to wet and humid seasons and recent flood events, while others blame the reduction in frequent bin collections from local councils.
Irrespective of why we are besieged, there is help available. Insurance providers now offer cover for homeowners who are affected by vermin infestations requiring extermination. However, before the insurers come in, certain small print exists and varies from provider and policies. Some home insurance stipulates the dwelling has to be rendered 'unsafe' for occupancy as a result of infestation or the infestation has to be in the home itself. It is important for all policyholders to know what they have and what they can claim for if the cause ever arises. Cover for such an occurrence is not standard, explaining why 75% of people who did not know if their policy protected them against pests.
Darren Black, head of house and contents insurance at Confused.com said: "It is now a common thing for homeowners to experience unwanted guests in and around their home. Species range from the dreaded rats nest through to wasps and bugs. All can cause damage to our homes and garden so it is important people know how to spot signs of boarding beasts and more importantly how to get rid of them."
"Some insurance providers will offer an extermination service of pest nests but it is an add-on, and does not come as standard. As the research highlights, some areas of the country are more prone to pests than others making it important adequate cover is obtained which suits individual needs and risks. As we hopefully look forward to a hot summer, check your policy as the warm weather doesn't only bring the sun loving Brits out of the woodwork."
Confused.com offers some handy advice on how to prevent pest guest invites:
Seal gaps and holes in your home: Pests can be opportunistic and only require minimal space to enter. Seal up redundant gaps around pipes and brickwork if you can.
Repair/replace broken drain covers. Rats can emerge from sewer systems.
Keep external doors and windows closed where possible. If this isn't practical open the outside door but make sure internal doors are closed, preventing any pests who have gained entry to your home, free rein in the house.
Manage your waste. Where bins are kept, make sure all the rubbish is well contained. Do not leave plastic sacks on the ground. The smell will attract a host of beasties including wasps, rats and foxes. The latter two pests have the ability to rip the sacks open spreading your waste as they feel necessary.
If animal feed is left outside, make sure it is in sealed containers. If you notice evidence of gnawing from rats, make sure you move the food source immediately.
If you feed birds in your garden, bring the leftover food in during night time. Leaving it out will encourage unwanted pests and will also secure a second visit if the menu is to their liking!
Confused.com offers this advice to all homeowners. Especially the men, after the research discovered 38% of them would rather the insurer's deal with such matters, compared to 64% of women who would deal with infestations themselves! The advice is also particularly aimed at the younger age group (such as students) who spot unsavoury species around their homes far more frequently than any other age group.
Notes to Editors:
Research from 72 point was conducted amongst 2000 respondents and was carried out in May 2009
For further information please contact:
Press office, Confused.com: 02920 434 398
Darren Black, Confused.com: 02920 435 574
About Confused.com:
Confused.com is one of the UK's biggest and most popular price comparison services. Launched in 2002, it generates over one million quotes per month. It has expanded its range of comparison products over the last couple of years to include car insurance, home insurance, travel insurance, pet insurance, van insurance, motorbike insurance, breakdown cover and energy, as well as financial services products including credit cards, loans, mortgages and life insurance.
Confused.com has a panel of 60 home insurance providers and can save customers over £180.74* on their annual home insurance policy.
Confused.com is not a supplier, insurance company or broker. It provides a free, objective and unbiased comparison service. By using cutting-edge technology, it has developed a series of intelligent web-based solutions that evaluate a number of risk factors to help customers with their decision-making, subsequently finding them great deals on a wide-range of insurance products, financial services, utilities and more. Confused.com's service is based on the most up-to-date information provided by UK suppliers and industry regulators.
Confused.com is owned by the Admiral Group plc. Admiral listed on the London Stock Exchange in September 2004. Confused.com is regulated by the FSA.
*24% of customers who received a home insurance quote in the first quarter of 2009 and provided a best alternative price saved over £180.74
###