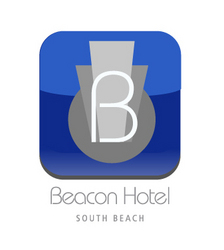 Before this campaign began we had about 700 fans and in less than three weeks we have almost doubled that total
Miami Beach, FL (Vocus) July 9, 2009
The Beacon Hotel proudly announces the launch of the Facebook Fan Special Offer which provides Facebook users with a 25% discount on their entire stay bookable through hotel's web site. The Beacon Hotel is the first amongst South Beach Hotels to launch this type of aggressive offer aimed at increasing the reach of their social media community. The Facebook Fan Special Offer is available to Facebook users who are registered Facebook Fans of the Beacon Hotel. The hotel currently has 1,178 Facebook fans and with this initiative hopes to reach the goal of 5,000 by the end of the year. "Before this campaign began we had about 700 fans and in less than three weeks we have almost doubled that total" explains Fritz Fandiño the Director of Sales & Marketing.
At times when hotels are searching for ways to increase their business the Beacon Hotel has turned to social media not only as the way of the future but also the present. "Facebook provides us with a unique opportunity to speak with our customers on a daily basis and establish a personal relationship. Social media and Facebook have opened new ways for businesses to communicate with their customers and our goal is to be the leaders amongst South Beach Hotels in using these channels" - explains Elvis Taylor the General Manager.
Facebook users who become fans of the Beacon Hotel obtain a 25% discount on their bookings and are automatically entered to participate in monthly raffles with a chance to win I-tunes cards and complimentary weekend stays amongst other items. The Beacon management is committed to expanding the reach of their social media channels and are currently working on developing a Facebook application which they will unveil soon.
About the Beacon Hotel South Beach:
Located at 720 Ocean Drive in the heart of South Beach the Beacon Hotel was built in 1936 and was designed with the flare and magnificence of the Art Deco era. The hotel underwent renovation from 2004 – 2006 and today it features 73 rooms and 2 VIP Suites which preserve the original Art Deco marble floors and have been beautifully decorated with modern chic décor. The Beacon Hotel is one of the leading Miami Beach Hotels in providing five diamonds service. The hotel offers luxury amenities including presidential beds by Serta, 320-thread count linen by Mascioni, turn-down service, flat-panel LCD TVs, IP phones, and much more. Ideally located at 720 Ocean Drive in the heart of the Art Deco district the Beacon is just steps away from all of the best entertainment that South Beach has to offer.
The Beacon Hotel's ambiance can be described as beach loving, festive, sophisticated, successful, and trendy. The hotel's management has focused its efforts in creating the ideal combination of relaxation, pampering, and enjoyment for its guests. The Beacon Hotel staff takes great pride in their commitment to providing a five diamonds service experience.
###