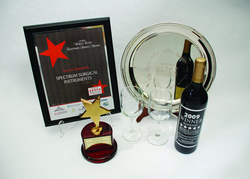 Stow, OH (PRWEB) July 10, 2009
Spectrum Surgical is pleased to announce that on June 17, 2009, for the 2nd consecutive year, the company was recipient of a Smart Business 2009 World Class Customer Service Award. The awards were presented to companies that set the standard for great customer service. Of 100 companies selected as finalists, Spectrum was one of just 11 that received this distinguished recognition.
What continues to set Spectrum apart is the company's attention to detail. At Spectrum, all calls are answered by a live representative and as a quality control measure all calls are monitored, reviewed, and scored in search of perfection. The company monitors customer feedback with every order and also provides a live "chat" feature on Spectrum's newly designed website which allows customers to ask questions and provide feedback in real time.
Since 1982, Spectrum Surgical Instruments has been providing a full line of surgical instruments, surgical instrument care products, surgical instrument cleaning brushes, and surgical instrument accessories. Spectrum Surgical Instruments is also a leading provider of surgical instrument repair services. Spectrum provides a full range of services, from sharpening and restoration of stainless steel surgical instruments to more advanced repairs such as flexible and rigid scopes, and powered surgical instruments. Spectrum services hospitals, surgery centers and veterinary centers across the United States and has experienced tremendous growth during the past 26 years. Spectrum's growth is fueled by our famous surgical instrument warranties and our commitment to customer satisfaction and retention.
Headquartered in Stow, Ohio, Spectrum Surgical is a nationally recognized company providing surgical instruments, surgical instrument repair, sharpening and restoration, and instrument accessories.
For More Information:
Derek Lashua, Marketing Director
800-444-5644
# # #