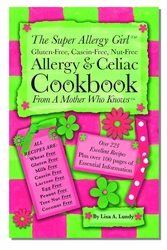 The Super Allergy Girl™ Allergy & Celiac Cookbook -From A Mother Who Knows™
Buffalo, NY (Vocus) July 9, 2009
Help is on the way for parents who struggle to get their children to eat healthier foods from food expert and cookbook author, Lisa A. Lundy, in the form of a free video you can watch here and a free tip sheet you can download from Ms. Lundy's website http://www.TheSuperAllergyCookbook.com. Over nine million children between the ages of 6 to 19 years old are either overweight or obese according to the Centers for Disease Control and Prevention. Since 1980 the number of children who are obese or overweight has tripled bringing with it serious health concerns. Obese children and adolescents are at risk for health problems like high blood pressure, high cholesterol, and Type 2 diabetes.
The issue of obesity is such an issue for Americans that on July 27-29, 2009, the Centers for Disease Control and Prevention's Division of Nutrition, Physical Activity, and Obesity, will host its inaugural conference on obesity prevention and control, [Weight of the Nation], at the Omni Shoreham Hotel, Washington, D.C. Planning for the conference is being done in consultation with the Division of Adolescent and School Health; the Division of Adult and Community Health; the Association of State and Territorial Public Health Nutrition Directors (ASTPHND); the Directors of Health Promotion and Education (DHPE); and the National Association of Chronic Disease Directors (NACDD). You can learn more about how you can help with the Weight of the Nation Conference, please visit this site.
Overweight adolescents have a 70 percent chance of becoming overweight or obese adults and this statistic increases to 80 percent if one or more parent is overweight or obese. The Tip Sheet offered by Ms. Lundy offers the ten best tips for getting children to eat healthier foods and includes recipes. As a mother of three, Lundy knows that kids can be difficult when it comes to eating the foods that are good for them. Lundy advocates making small changes because they add up over time.
"People get easily overwhelmed when it comes to eating healthy. They often think the task is too big or they simply won't win at it. Every small step or small change matters. Eating healthier is a journey that happens over time. The important thing is to make a commitment to eating healthier and then pick one tip and implement it," Lundy asserted.
Lundy's third child, a 7-year-old daughter named Anne, suffers from malnutrition and malabsorption, which means that Anne's body does not absorb the nutrients from the food Anne eats. Ms. Lundy has learned from the school of hard knocks the value and importance of food and nutrition in human health and wellness. Now she is using what she has learned to help other parents. Her website is loaded with free downloadable documents, white papers and tip sheets to help with food related topics and special diets.
Lundy's cookbook, "The Super Allergy Girl™ Allergy & Celiac Cookbook -From A Mother Who Knows™", is a gluten-free, casein-free, dairy-free, egg-free, peanut and tree-nut free and other allergen-free resource for both the beginner and experienced baker in the area of food allergies, the gluten-free diet, and the gluten-free and casein-free diet. Her cookbook is designed for people with allergies, celiac disease, autism, gluten intolerance, and other health issues like ADD, ADHD, irritable bowel, Crohn's disease, depression and anxiety. Her book is available at http://www.TheSuperAllergyCookbook.com.
Size: 6" x 9"
Pages: 405 pages
Soft Cover, Perfect Bound
ISBN#: 978-0-9797542-0-3
Price: $28.95
Contact: Ms. Lisa Lundy
Phone: (716) 835-6392
e-mail: Lisa (at) theroostercrows.com
###