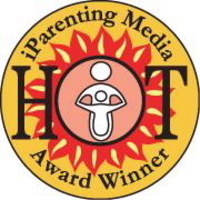 Excellent Products and Hot Products of 2009
Palm Beach Gardens, FL. (PRWEB) July 9, 2009 -
Winning Kids Inc., http://www.TravelingBear.com, the leading innovator of children's positive value and character building products, today announced that two of its Winning Kids with Traveling Bear products have been named "Excellent Products and Hot Products of 2009" by Disney's iParenting Media Awards. The Traveling Bear Adventure Book with Read-a-Long CD Series, available in English and Spanish versions that instill positive values and winning attitudes while building strong reading skills and the Traveling Bear's Favorite Songs Music CD that features Lloyd Mabrey's fun and exciting songs that reinforce all the values taught by the lovable Traveling Bear have won the prestigious awards.
"Winning Kids is very proud to have reached such high evaluation standards to be named an iParenting Media Award Winner," said Christian Hainsworth, President of Winning Kids "Our world class products combine education and wholesome entertainment to provide parents and educators with a character building resource that promotes the discovery and fun of learning and the desire to do your best. Above anything else, our passion for children and providing them with opportunity and positive life skills is absolute."
About Winning Kids Incorporated
Winning Kids Incorporated, http://www.TravelingBear.com, proudly produces the Winning Kids with Traveling Bear series of children's books, read-a-long CD's, video DVD's, favorite songs CD, plush toys, back packs and coloring book. The Winning Kids with Traveling Bear/El Osito Viajero series consists of 14 real to life adventure books available in English and Spanish versions that each come with a read-a-long audio CD. The storybooks are themed on building positive family values, winning attitudes and leadership qualities in children. The read-a-long audio CD's are specifically designed to build strong reading skills and an enjoyment of reading in a fun and easy way.
Additionally, the Traveling Bear products have also received high ratings from The National Lekotek Organization, the premier organization that identifies products that are beneficial to children with special learning needs.
About iParenting
Disney Family operates iParenting one of the Internet's most popular communities for parents and parents-to-be at http://www.iparenting.com/. Disney Family was created to help parents with the most important job of their lives: raising their family in the best environment possible. They are committed to creating a nurturing, safe, and well-informed environment for guests and members to expand their parenting knowledge in a fun, entertaining way -- just what you'd expect from one of the most trusted names in family entertainment.
Website: http://www.travelingbear.com
Website: http://www.iparenting.com/
###