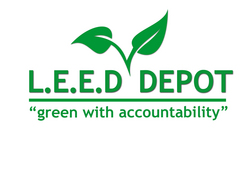 …one of the fastest, easiest, and cheapest ways to make our economy stronger and cleaner is to make our economy more energy efficient
Miami, FL (PRWEB) July 9, 2009
Recently President Obama addressed a room full of journalists and TV cameras gathered in the White House's Grand Foyer on a topic that is central to his agenda, energy reform. " …one of the fastest, easiest, and cheapest ways to make our economy stronger and cleaner is to make our economy more energy efficient," said President Obama. Listening attentively in South Miami was L.E.E.D. Depot President and Air Force veteran, Edward "Ned" Stieglitz.
One of President Obama's key strategies for energy reform is to improve energy efficiency. He announced the Department of Energy's new focus on implementing more aggressive efficiency standards for common household items, among them, light bulbs. Ned Stieglitz knows about energy efficiency; he heads up L.E.E.D. Depot, a green building-consulting firm based out of Miami, FL. Stieglitz agrees with the President's figures on the amount of energy that will be saved and he points out that the technology is available to make it happen right now.
Obama said: "The first step we're taking sets new efficiency standards on fluorescent and incandescent lighting, announced the President, and by the way, we're going to start here at the White House. Secretary Chu has already started to take a look at our light bulbs, and we're going to see what we need to replace them with energy-efficient light bulbs.
L.E.E.D. Depot's challenge to Secretary Chu is for the immediate consideration of the EcoFitT5 Conversion Kits with which one can easily replace their old T8 or T12 fluorescent bulbs with more efficient T5 bulbs. The T5 bulbs produce four times the amount of light generated by a standard T8 bulb. The EcoFitT5 Conversion Kits are manufactured by Garper Energy Solutions; they are easy to install because you can use the existing fixtures. L.E.E.D. Depot recently joined in a strategic partnership with Garper Energy Solutions; the partnership makes L.E.E.D. Depot a direct distributor of GES' EcoFitT5 Conversion Kits.
"We're also speeding up a $346 million investment under the Recovery Act to expand and accelerate the development, deployment, and use of energy-efficient technologies in residential and commercial buildings, which consume almost 40 percent of the energy we use and contribute to almost 40 percent of the carbon pollution we produce," stated President Obama.
This is just what Stieglitz wants to hear; his company has been making a big push to promote green building in South Florida. Recently, L.E.E.D. Depot and its partners began the "Greening of Chamber South" project as a flagship project intended to demonstrate the capabilities and relative ease of retrofitting an existing building with the latest green technology. With everything from energy-efficient, impact-resisting windows to non-toxic paints and energy-efficient T5 bulbs; the Chamber is expects to save well over 25 percent in energy costs. In addition, L.E.E.D. Depot is also training and hiring interns from Homestead Job Corps for green jobs.
About L.E.E.D. Depot (http://leeddepot.us/):
L.E.E.D. Depot is a multi-faceted company that provides quality residential and commercial building in South Florida. Three decades of expertise allows L.E.E.D. Depot to provide new and restorative construction as well as seamless additions. We specialize in design-build contracting, which is an effective way to coordinate architecture and construction. L.E.E.D. Depot is a remarkable company in that it is one of the only in South Florida that can provide Quad-Lock concrete construction, a method that gives you all solid concrete walls, extraordinary energy efficiency and provides one of the best forms of protection against hurricanes. L.E.E.D. Depot is a pioneer in working to bring self-sustaining housing to South Florida.
###