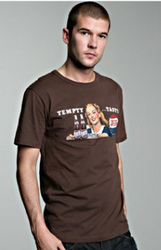 Montclair, NJ (Vocus) July 9, 2009
Bradford Licensing, LLC, the exclusive international brand licensing agency for PepsiCo, Inc., is pleased to announce continued success of the Pepsi licensing program around the globe through a number of renewals and exciting new deals brokered by our partner agents as well as a newly revitalized Pepsi style guide.
With thanks to partner agent, Cameron Consultancy, Fashion UK will continue to produce Pepsi branded apparel, including t-shirts, sweatshirts and pants. Fashion UK's Pepsi and 7Up t-shirts have sold successfully in popular UK retailer Topshop, among others. Cameron Consultancy has also brokered a deal with Paper House, who will produce greeting cards featuring artwork of the Pepsi bottle cap by famed artist, Andy Warhol.
Three existing Pepsi-Cola licensees, Sakamoto, Maraudi and Diggit, Inc., based out of Japan, renewed their licensing agreements due to ongoing success of the Pepsi licensing program with the help of the licensing agency, Phoenix. With these renewals, both companies will continue manufacturing unique Pepsi-Cola products, with Sakamoto producing stationary and cell phone accessories, Marudai creating shoes and sandals, and Diggit, Inc. making handbags and accessories.
In France, Licensee Plus will create ladies apparel, handbags, umbrellas and watches, through a deal made by RMP Licensing. German agent, Euro Lizenzen, has signed on Millipede Fashion BV, located in The Netherlands, to manufacture loungewear, socks, caps and scarves for Men's, Ladies and Young Adults for all of the PepsiCo brands.
At last month's Licensing International Expo, Bradford revealed "The Pepsi Brand, Refreshed" merchandise and style guide exclusive to international licensees. Go beyond the apparent to trendy new designs, applications, and product concepts and discover an emerging fashion brand for today's generation - completely refreshed!
For more information regarding Pepsi Licensing, please contact Michelle Minieri, President of Bradford Licensing LLC at 973-509-0200.
About Bradford Licensing, LLC:
Established in 1986, Bradford Licensing LLC is a full-service brand licensing agency with worldwide brand extension capabilities. Bradford develops licensing programs based on the leading corporate brands, television series and characters, fashion brands, celebrities, sporting events and non-profit organizations. Bradford is based in tri-state metro area and maintains a network of partners in all major foreign countries, including Europe, the Asia Pacific Rim, and South America. Current Bradford clients include Pepsi, 7Up, Mountain Dew, City of Beverly Hills, Aspen Colorado, Marilyn Monroe by Shaw Family Archives, and PEZ Candy among others.
###