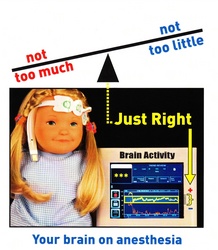 Most cosmetic surgery tragedies, like those of Olivia Goldsmith, 'First Wives' Club' author, Donde West and Stephanie Kuleba, are anesthesia related, and most are avoidable
Corona del Mar, CA (PRWEB) July 14, 2009
Your cosmetic surgeon may not improve your looks to your liking, but your anesthesia provider could kill you as quickly as Michael Jackson died.
Most healthy patients can safely breathe room air without supplemental oxygen when getting propofol sedation if they have brain monitoring, says Dr. Barry Friedberg, developer of PK anesthesia.
The huge, 19-fold variation in propofol detox between patients is why most anesthesia providers routinely give oxygen. Twelve years experience with custom tailored PK anesthesia using a brain monitor has eliminated routine oxygen administration in most healthy patients for intravenous (IV) sedation.
Monitoring of traditional vital signs (i.e. EKG, blood pressure, heart rate, & oxygen status) is not enough to account for the huge variation in how different people detoxify (or metabolize) drugs like propofol. Brain monitoring fills that information gap, according to Aspect Medical Systems, Inc., makers of the BIS monitor.
"Most cosmetic surgery tragedies, like those of Olivia Goldsmith, 'First Wives' Club' author, Donde West and Stephanie Kuleba, are anesthesia related, and most are avoidable," says Dr. Barry Friedberg, founder of Goldilocks Anesthesia Foundation, a non-profit organization dedicated to patient safety advocacy.
Most people are so fixated on the body part whose appearance they want to change that little thought is given to the anesthesia that will accompany the surgery. Some studies say patients pay more attention to the next car they will purchase than the anesthesia for their cosmetic surgery.
Propofol or Diprivan, the drug recently found at Michael Jackson's home, has become increasingly popular for cosmetic surgery anesthesia in no small part due to the tireless efforts of Dr. Friedberg in promoting the use of his PK (or propofol ketamine) anesthesia for the past 17 years.
After nearly two decades of providing PK anesthesia for cosmetic surgery for more than 100 different surgeons, there is no question that PK anesthesia is reproducible. "No known cosmetic surgery requires general anesthesia, even tummy tucks," says Dr. Friedberg.
No PK patients have died or come close to death, like Tameka Foster's recent Brazilian experience. Brain monitoring was added to PK anesthesia in 1997. Since then, no PK patients needed any anti-vomiting medications or strong pain, narcotic medications for pain.
Most anesthesia providers who give propofol have observed the wide variation in patient response. The 19-fold variation in the metabolic fate of the drug between individual patients is the most compelling reason to monitor the brain, the organ the propofol is designed to medicate.
"The brain monitor tells the surgeon when to inject local anesthesia at the beginning of surgery without hurting the patient, as well as when to add more local anesthesia during the surgery before the patient says 'Ouch,' " says Friedberg, a 12-year veteran of brain monitoring.
Friedberg's Triad is:
First, quantitate - measure the brain response to medication;
Second, preempt pain - use a dose of ketamine 3 minutes before painful stimulation, like injection of local anesthesia;
Third, non-emetogenic - don't give drugs that make patients sick to their stomach. Brain-monitored, propofol-based anesthesia is the ideal.
"Once patients understand what is in their best interest and they begin to ask for brain monitored PK anesthesia, greater safety will result," says Friedberg.
Disclaimer: Dr. Friedberg has no financial involvement with any maker of brain activity monitors.
About Goldilocks Anesthesia Foundation:
Goldilocks Anesthesia Foundation is a non-profit organization whose mission is to educate Americans about the public health risk of anesthesia over medication and the value of brain activity monitors.
'Goldilocks anesthesia' is not 'too much' (or 'too little') but just the right amount. Too much is detrimental to the brain. The only way to get 'the right amount' is by measuring patient's brain responses with a brain monitor.
Goldilocks Anesthesia Foundation supports research demonstrating the negative effects of too much anesthesia.
For more information on avoiding anesthesia over medication that can lead to brain damage and death, please visit http://www.GoldilocksAnesthesiaFoundation.org.
Media contact:
Barry L. Friedberg
1-949-233-8845
###