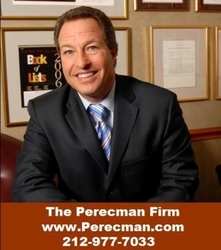 Prior results do not guarantee a similar outcome.
New York, NY (PRWEB) July 9, 2009
The collision of two trains on the Washington Metro's Red Line has killed at least nine people and injured at least 79, according to the latest news update from The Washington Post.
The collision, which left one train crushing the top of the other, was the worst in the Metro's 33-year history.
According to the report, one train was stopped on the tracks, waiting for clearance as a preceding train exited the Fort Totten, Md. station. Without slowing down, a second train slammed into the stopped train from behind, launching its front car on top of the crumpled rear car of the stopped train.
The severity of the injuries ranged from minor to critical.
The precise cause of the crash is so far unknown, though, experts and New York personal injury attorney, David Perecman, speculate that it was a result of both a faulty computerized sensor system and operator error. The sensor system is designed to stop trains when a problem occurs on a track, including, when one train comes too close to another. Investigators are also considering the fact that the speeding train was comprised of older model cars that the National Transportation Safety Board had recommended be replaced or retrofitted over three years ago because of concerns about safety in a crash, reports the Post.
New York personal injury attorneys and investigators alike know there are many ways trains, especially those with aging or faulty equipment, can malfunction. They also know that there are many opportunities for operator error and automated system errors.
"Whatever the cause of the accident, these things shouldn't be happening," says New York personal injury attorney Perecman.
Personal injury attorneys made note that following fatal and nonfatal crashes on the Metro, including this one, the NTSB has criticized the Washington Metropolitan Area Transit Administration for failing to fix known safety problems. Reports from the NTSB make mention of ignored warnings from front-line managers, disregard for their recommendations, and failure to learn from its mistakes.
"Whenever an accident like this happens, it is truly a tragedy. A bigger tragedy, that personal injury attorneys are well aware of, is knowing that death, injury, and property loss could have been prevented," says Manhattan based attorney Perecman.
Before the June 22 crash, there had been at least five fatal accidents in the history of the Metro, killing eight people.
"It's truly terrible this happened and I'm deeply sorry for the victims and their families," says Perecman. "Thankfully crashes like these are rare."
About David Perecman and The Perecman Firm, PLLC:
For the past 25 years, the New York personal injury attorneys, construction accident, auto accident and medical malpractice attorneys at The Perecman Firm, PLLC have championed all types of cases for personal injury. David Perecman, founder of the Firm, is the current Secretary of the New York State Trial Lawyers Association (NYSTLA) and a chair of its Labor Law Committee. Mr. Perecman's achievements have brought him recognition as an Honoree in the National Law Journal's Hall of Fame, in New York Magazine's "The Best Lawyers in America" and The New York Times Magazine "New York Super Lawyers, Metro Edition".
The Firm has recovered millions of dollars for its clients. Among the more recent victories, Mr. Perecman won a $15 million verdict* for a construction accident, a $5.35 million dollar verdict** for an automobile accident, and a $40 million dollar structured settlement for medical malpractice.
*later settled while on appeal for $7.940 million
** later settled for $3.5 million
"Lawyer Advertising"
"Prior results do not guarantee a similar outcome."
###