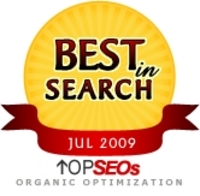 We are delighted that SEO Consult and Click Consult are continuing to provide the quality of services necessary to achieve and maintain these monthly awards
Cheshire, England (PRWEB) July 11, 2009
Click Consult, a leading UK search marketing agency, have been judged the TopSEOs Best Organic Search Engine Optimization Company for the eighth consecutive month in July 2009 and have also scooped the 3rd place award for the Top UK Pay Per Click (PPC) Management Agency.
TopSEOs are the independent authority on search vendors and have ranked SEO Consult, Click Consult's specialised search engine optimisation division, the best UK SEO company every month from December 2008 until present. The prize is awarded based on how over 300 UK search agencies fulfil criteria such as an average return on investment for SEO clients, client support and problem resolution, how quickly first page search results are achieved and competitiveness of pricing. Feedback from the agency's clients is also taken into account to validate the quality of services.
The Best PPC Management Company awards are given to agencies judged to provide the best and most comprehensive services by how well they meet vital industry criteria such as depth of pre-campaign research and analysis, ROI (return on investment) for clients, level of campaign monitoring including adjustments made as a result and the depth and clarity of campaign reporting to clients. Again, client feedback is collated by TopSEOs to verify the quality of services offered by each agency before the monthly top ten agencies are announced.
"We are delighted that SEO Consult and Click Consult are continuing to provide the quality of services necessary to achieve and maintain these monthly awards," Matt Bullas, Managing Director of Click Consult, comments. "By treating every client as an individual, we can tailor a search marketing campaign to their exact needs and business goals, encompassing search engine optimisation, PPC and any or all of the other dynamic, effective online marketing strategies that we offer. We pride ourselves on providing creative and flexible bespoke internet marketing solutions which achieve great results for our clients."
For more details about Click Consult, please visit our website http://www.clickconsult.com or call 0845 205 0292.
About Click Consult:
Established in 2003, Click Consult is a leading provider of Search Engine Marketing (SEM) solutions, including Pay Per Click (PPC) Campaigns, Content and Banner Advertising, Search Engine Optimisation, Affiliate Marketing, Shopping Feeds, Website Design and Development, E-Mail Marketing and Online PR. With over 35 Staff in Cheshire and London, Click Consult has over 200 PPC and SEO clients in every major industry. Click Consult is fully certified by Google AdWords, Microsoft adExcellence, the Internet Advertising Bureau, SEOCertification.org and TopSEOs.com.
###