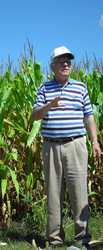 They'll be able to explore how Stoller technology can benefit their operation and boost their profits.
Houston, TX (PRWEB) July 13, 2009
StollerUSA is gearing up for the 2010 Corn College to be held near Bloomington, Ill. on July 21-22 and 23-24, 2009.
Organized and sponsored by Farm Journal Magazine, Corn College is hands-on learning experience dedicated to helping corn growers discover new technologies and solutions. Held for the first time in August 2008, more than 400 farmers from 23 states and Canada graduated from Corn College with valuable insight on corn production.
As one of the sponsors of the 2009 Corn College, StollerUSA will exchange ideas and information with progressive corn growers. Stoller's focus will be on its proprietary technology designed to maximize plant genetic expression and improve crop quality and yields.
Stoller personnel will share research results and field trial data on Stoller's leading products. Stoller on-site test plots and technical presentations will allow participants to view real results. Jerry Stoller, president of StollerUSA, the marketing director and field sales representatives will be available to meet with farmers and answer any questions.
"Corn College participants will get a chance to see Stoller technology in action," said Jerry Stoller, founder and president of the Stoller Group. "They'll be able to explore how Stoller technology can benefit their operation and boost their profits."
Stoller's expertise in maximizing the genetic expression of crops is based on the management of plant hormone levels throughout the life cycle of the plant, allowing for optimal performance under any conditions.
Stoller's Bio-Forge® helps producers protect their crops from potential stressors. Unlike other products that suppress all ethylene production, Bio-Forge® is the only one proven to manage "bad" stress ethylene necessary for proper plant functioning and other factors at an optimal level through a variety of stress conditions. POWERPLUS™, another valuable tool, maximizes the efficiency and effectiveness of nitrogen, encouraging cell divisions and keeping cells alive longer in high-population planting.
For more information about StollerUSA's participation at Farm Journal Corn College, go to http://www.agweb.com/farmjournal/corncollege/Default.aspx
StollerUSA is dedicated to helping producers enhance yields by maximizing genetic expression. The result is in enhanced marketable yield; improved return-on-investment resistance to insects, nematodes and disease. Stoller products are proven to ensure optimum plant growth by maintaining appropriate hormone balance in combination with supporting nutrients, resulting in healthier, more productive crops that are better able to withstand stress and achieve their full genetic potential.
In agribusiness for more than 40 years, StollerUSA markets a full line of products to help farmers increase crop yield and quality. StollerUSA, headquartered in Houston, is actively engaged in basic and practical research to enhance crop productivity in more than 50 countries. For more information on StollerUSA, visit http://www.StollerUSA.com. If you are a farmer in California, visit http://www.StollerCalifornia.com to see the products available in your area.
###