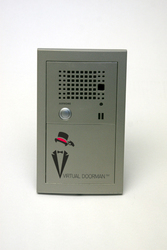 It made both aesthetic and economic sense to develop a special product solution that combines our Virtual Doorman system with Aiphone's intercom systems
New York, NY (PRWEB) July 10, 2009
New York City-based Virtual Service, creator of Virtual Doorman, the pioneer and leading provider of high-tech electronic doorman services, is pleased to announce it is collaborating with Bellevue, Washington-based Aiphone USA, one of the world's most respected and reliable manufacturers of communication systems.
The alliance was forged in order to take advantage of each company's expertise and develop a new, custom-manufactured hardware component - an audio/video intercommunication module - that seamlessly integrates the Virtual Doorman system's sophisticated remote technology with Aiphone's GH video entry systems.
"It made both aesthetic and economic sense to develop a special product solution that combines our Virtual Doorman system with Aiphone's intercom systems," said Colin Foster, vice president of sales and marketing for Virtual Doorman. "This enables Virtual Service and our Authorized Dealer Networks to promote, sell and install a streamlined solution with this special custom module."
The combined functionality means that only a single, self-contained unit needs to be installed at the exterior entryway of residential buildings since it functions independently as a video intercom entry system and also communicates with the Virtual Doorman system when called upon -- taking the place of two separate components. This offers obvious aesthetic advantages to the customer who is looking for a streamlined solution for their entryway. The unit can be easily integrated into a building's intercom system at any time while still giving the appearance of being original to the system, making it ideal for older buildings as well as new developments.
"We are very excited to collaborate with Aiphone, a long-established global leader in video entry security systems," said Mr. Foster, "and we anticipate that the new combined component will generate tremendous interest among architects, developers, coop/condo boards and others in the building industry. Aiphone's ability to provide special engineering services where they design and produce custom systems to meet special needs made them an ideal partner for this endeavor."
"The development of this custom module allows both of our organizations to further penetrate into this growing segment of the building market," said John Mosebar, Vice President of National Accounts for Aiphone Corporation.
The custom component - the GH-VDM -- is currently being offered solely through Virtual Service and their Authorized Dealer Network. Systems integrators with expertise in selling and installing the Aiphone/Virtual Doorman GH system may contact Aiphone or Virtual Service to learn how to integrate this custom unit into new GH systems sold or upgrade existing GH customers to the GH-VDM system. Security Integrators are invited to apply to become Virtual Service Authorized Dealers, enabling qualified dealers to purchase, sell and install Virtual Doorman system as well as this special custom intercommunication module.
About Virtual Doorman:
Virtual Doorman was first introduced in 2000 by Virtual Service, a New York City-based provider of interactive video security, video monitoring and alarm systems. It was the first remote doorman system created to provide the same services of a traditional doorman but at a fraction of the cost. The system is designed to remotely secure the building, greet visitors and provide access, accept deliveries, facilitate maintenance and service calls, and much more, offering increased convenience, heightened security and peace of mind.
Virtual Doorman is the only remote doorman service to offer a Web-based information management system (Web Portal) that streamlines communication between residents, management and Virtual Doorman. The latest version of the Web Portal, launched earlier this month, further enhances the functionality and uniqueness of Virtual Doorman by offering tenants added account management features and streamlined communication with the command center and their building management.
The company is headquartered at 104 West 40th Street, 2nd Floor, New York, NY and can be reached at 212-400-6000, via email at info(at)virtualdoorman.com or on the web at http://www.virtualdoorman.com.
About Aiphone:
Aiphone is one of the largest and most respected manufacturers of intercommunication and video entry security systems in the world. Aiphone's extensive line of products can be used as stand-alone internal communication systems or be integrated with existing CCTV, electronic access control, and perimeter protection systems. Aiphone's reputation for long-lasting operation and high quality design has earned the company the Deming Award for quality. Aiphone Co. Limited is headquartered in Nagoya, Japan and exports to over 60 countries. The North American marketing and sales distribution center near Seattle, Washington was established in 1970. The company can be reached at 425-455-0510 or on the web at http://www.aiphone.com.
###